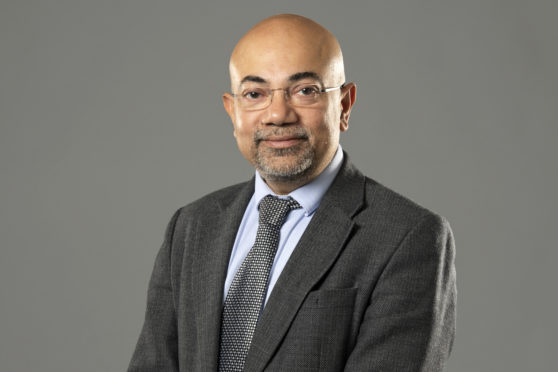 I've often heard it said that the north-east of Scotland and its people aren't boastful – that they don't shout about their strengths and successes, that they hide their light under a bushel.
Although I'm not from Aberdeen originally I've spent most of my life here – 27 years no less – as a doctor and researcher. My wife and I also raised our family in this part of the world, so whilst I'm not exactly a native Doric 'spikker', I consider myself a proud Aberdonian.
After leaving the city just over a year ago to take up the role of head of the medical school at Cardiff University, I was able to appreciate how the north-east, and in particular the University of Aberdeen, appear from afar.
What I found wasn't completely surprising: oil industry – check; ancient university – check; good medical school – check. Well, it was good to know that they didn't think we were still living in caves up here, but did they know about our many successes?
Perhaps I'm being unfair. There are many universities across the UK all shouting about their achievements so why should anyone in South Wales care about the excellence that can be found in Aberdeen? This then got me pondering: are the people of the north-east of Scotland even fully aware of the pioneering achievements that have taken place on their doorsteps, and of the ground-breaking research that continues to this day?
As part of my 're-introduction' to the city in my new role as head of the University of Aberdeen's School of Medicine, Medical Sciences and Nutrition, I've been out and about meeting with academic colleagues, as well as various people from the public and private sector. To be fair, they do know that we are The Times/Sunday Times Scottish University of the Year 2019. But when you drill down a little deeper, it is clear that many are not in the picture as much they could be about some of the university's many fantastic successes over the decades.
Last year we received the prestigious Queen's Anniversary Prize for Higher and Further Education in recognition of our world-leading health services research over the last 40 years. This is effectively the highest national honour a UK university can receive, and Aberdeen was last recognised in this way 19 years ago for its pre-eminence in medical imaging technology.
This latest prize acknowledges the work of two flagship research units on our Foresterhill campus – the Health Services Research Unit and the Health Economics Research Unit – which use the very best research techniques to assess which medical treatments are most effective and efficient.
This is by no means just "academic" either – the findings of these units have impacted directly  on the lives of millions of people all over the globe.
For example, our research showing that robotic surgery is beneficial in prostate cancer has changed the face of surgery across the UK, while in dentistry, our work has led to a 7% reduction in annual antibiotic prescribing in dental practice.
In women's health, our research has led to a reduction in the number of embryos implanted in women undergoing IVF treatment, reducing the risk of multiple births and serious risks to the mother and children without decreasing the chance of pregnancy. This is now seen as best practice in the UK and in many parts of the world.
And that's just some of what's responsible for us getting that accolade. That aside, I could explain further that our dental school was ranked top in the UK in the recent Guardian University Guide and that our state-of-the-art Rowett building houses scientists who are leading the fight against food inequalities, food security and obesity. I could also go on about the Institute of Medical Sciences where we have experts in arthritis and musculoskeletal medicine, cell developmental and cancer biology, immunity, infection and inflammation, metabolic and cardiovascular health, microbiology and translational neuroscience.
All this on the very campus where the first full body scanner was built 30 years ago and where we are now designing the next generation of MRI scanners.
These are all local achievements with truly global impact. Of course, the scientific community is aware of this, but I believe that we can – and should – be more forthcoming in making sure that the rest of the world is aware of our achievements as well as our aspirations for the future.
---
Professor Siladitya Bhattacharya is the new head of the University of Aberdeen's School of Medicine Medical Sciences and Nutrition