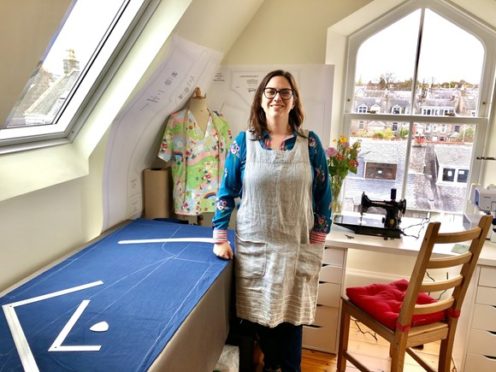 In the wake of the Coronavirus, people across the country have opened their sewing kits to help stitch together essential scrubs for NHS workers.
Aberdeen University PhD researcher Carley Williams has joined a team of Grampian-based machinists who have answered the call of the For the Love of Scrubs campaign.
Since the national campaign began three weeks ago, needleworkers in the north-east have made and delivered more than 480 sets of scrubs, together with an array of laundry bags.
Ms Williams, who fits in making the garments around caring for and home-teaching her six-year-old daughter, Isla, said sewing the scrubs has been a real community effort.
She said: "In total, the scrubs campaign for NHS Scotland has raised an amazing £42,000 on Go Fund Me, and many people have been self-funding fabric as demand is far outstripping supply.
"It's been great to play my own small part in that."
In a bid to keep key workers supplied, as well as making garments she has self-funded £150 of materials to get herself involved at the start and also raised an additional £650 for the Grampian group through a Facebook fundraiser.
Initially the group faced struggles to get fabric from the central belt due to high shipping costs but, with the help of Scotrail, materials are being delivered to keen sewers across Scotland.
Ms Williams added: "Although we are making scrubs specifically for NHS Grampian, it is nice to know you are part of a national For The Love of Scrubs campaign and to see what individuals coming together in this way can achieve.
"The Scottish volunteers have delivered more than 3,000 sets of scrubs. That's about 1,000 sets per week.
"We are still looking for more volunteers to help in the Grampian region, as we have been receiving quite large orders in the past week."
Meanwhile, there has been a welcome cash boost for a Moray charity whose visor scheme is helping to protect at-risk staff from Covid-19.
Moray Makerspace ordinarily runs sessions to showcase robotics, electronics and soldering, as well as a coding club to promote Stem.
Its members have, however, not received £5,000 from Foundation Scotland's Response, Recovery and Resilience Fund.
The emergency fund has distributed £1.8 million to 452 organisations since its March 26 launch.
Funds are to help local charities and grassroots organisations across Scotland respond to the health crisis.
Using 3D printers, the Moray group has been busy creating visors across local health centres and other facilities.
Chairwoman of Moray Makerspace Claire Griffiths said the cash injection would go towards the purchase of PPE materials to make visors.
It allow the group to offer the items to additional facilities including every dental centre, opticians and care home in Moray.
Mrs Griffiths said: "Thanks to Foundation Scotland, we have been able to to continue our 3D printed visors/face shield project for Covid-19.
"We have delivered over 1,300 visors and face shields to 70 locations across Moray, helping to protect our hard-working health workers and other caring professionals."​