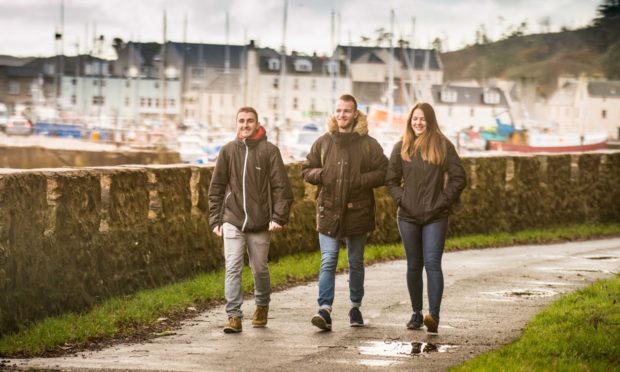 New island-based research opportunities are being developed to help bring more students to the Northern and Western Isles and help stem depopulation.
The University of the Highlands and Islands (UHI) also aims to set up a programme of short courses to attract more "educational tourists" to the islands.
The university yesterday published its first islands strategy with objectives to help economic development, attract and retain talent and support the Gaelic and Norse cultures.
It follows the recent announcement that the island groups will receive £100 million from the Scottish and UK governments as part of the Islands Growth Deal.
Professor Crichton Lang, the university's principal and vice-chancellor, said it is an exciting time for Scotland's islands, but they also face challenges including climate change, population decline and Covid-19.
He said: "Our new plan sets out how we will work with others and use our strengths in further education, higher education and research to have a beneficial impact across the islands and in the communities which are home to our staff and students."
Minister for energy, connectivity and the islands Paul Wheelhouse said the strategy has the potential to make a significant contribution to the future sustainable growth of islands, including providing opportunities for people to pursue skills and qualifications and maintaining and creating jobs.
"It is more important than ever that we support communities across all of Scotland's inhabited islands. The Scottish Government established the first National Islands Plan last year and we are pleased to see many of the key themes in the university's Islands Strategy align with our own ambitions for the islands."
Professor Neil Simco, the university's vice-principal (research and impact), said it plans to develop more research in the islands to draw in new PhD students to support the economy, while tackling issues such as the climate emergency, developing a sustainable blue and green economy, and delivering health care in the islands.
He said the short course programme will have potential benefits in terms of economic sustainability and income generation, as well as raising the profile of the islands to new markets.
"This islands have rich cultural heritage and we know there are people interested in coming to study for perhaps a week as a holiday. The idea is that we develop our provision of short courses and on the back of that a proportion will want to study further with us."
The strategy also set out aims to support a range of projects to strengthen Gaelic in the community and the economy, including improving language skills for people in education, health and the creative industries.
In addition, it will seek to "rediscover, preserve and interpret" local culture with a focus on Orkney and Shetland dialects.