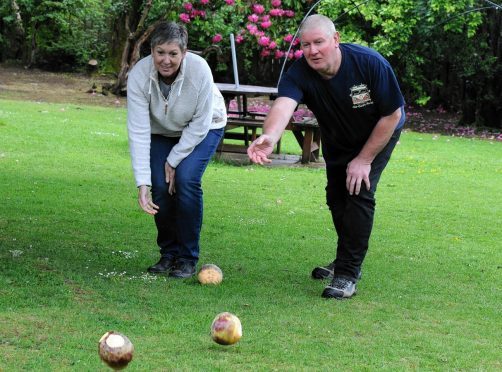 It is one of the more outlandish competitions taking place in the north east this weekend.
And Jings, Crivvens, Help Ma Boab, The Broons were the inspiration for the inaugural World Neep Bowling Championships which has captured the imagination of participants from all over the region.
The event, which is being staged at Bennachie Lodge in Kemnay this weekend will see more than 200 people ply their skills in a bowling green environment.
But, in this instance, they will be using neeps – turnips for the uninitiated – rather than the usual wooden or plastic-coated bowls and the winners could end up in the Guinness World Record annals.
Sandy Elrick, a director at Bennachie Lodge, explained how the antics in the famous Scottish comic strip had inspired this new event.
He said: "We saw a copy of the Broons where the local bowling green was full, so they went to Grampaw's house and ended up playing with neeps in his garden.
"It seemed like a good idea and we thought to ourselves: 'Why don't we see if we can turn that from fiction to reality?'
"It has built up a lot of momentum since we came up with it. We only took over the hotel in August last year and we have a fabulous family garden here at the lodge.
"So we were looking for events we could stage and neep bowling seemed a good shout."
The organisers have arranged both a doubles and a four-person team challenge over the weekend and Mr Elrick admitted he was surprised at how many people had signed up to get involved.
He added: "We put the details on Facebook and, so far, we have over 200 people coming and we are looking forward to crowning the first world champion neep bowlers this weekend.
"Obviously, the weather hasn't been too great recently, but we're hopeful there will be no problems in making this a big success."
The only stipulation is that players have to bring their own neeps, but prizes will be awarded to those participants who enjoy the swede smell of success.
The action on both days starts at 1pm.