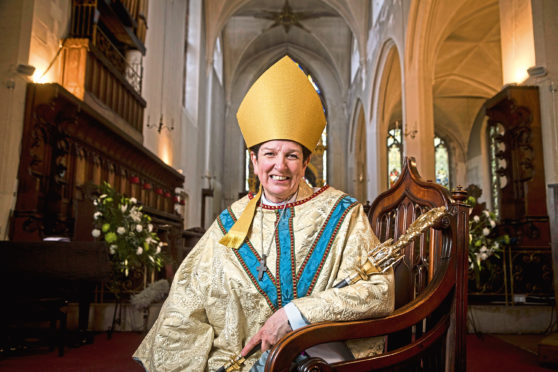 It's unseasonably warm as sunlight streams through the windows at Marischal College, and Anne Dyer tilts her face to the rays.
The sunbeams dance across the wooden floor of the room, which was previously used as a staff room when the college served as Aberdeen University.
It has provided a refuge for Anne this past year, a sanctuary where she has, in her own words, "had a good bawl" before fixing her make-up and continuing with one of the most controversial appointments in the history of the Scottish Episcopal Church.
Anne is a wife and mother, but she is also Scotland's first female bishop – the Rt Rev Anne Dyer.
She was selected in the face of an open letter from more than a dozen clergymen in the diocese, who threatened to resign in the belief that her appointment was "divisive and disrespectful".
Their criticism is but the tip of the iceberg for Bishop Dyer, who also came up against opposition due to the fact that she cannot drive.
She hasn't let that supposed failing stand in her way and makes it her business to be "loud" on her morning bus journey, when she chats to fellow commuters. More often than not, she listens to the problems of strangers within minutes of finding a seat – with dementia and the care of elderly relatives topping the list.
Her appointment alone could be seen as a triumph for women everywhere, a sign that times are finally changing after thousands of years of entrenched sexism both in and beyond the Church.
If fellow clergymen believed that Bishop Dyer would take up her role quietly in the hope of riding out the storm, they were to be proved wrong.
She has campaigned against gendered violence and supports same-sex marriage, which the Episcopal Church voted to allow in 2017.
"Quietly" simply doesn't come into the bishop's vocabulary and she is determined to make an impact despite criticism, which has sometimes been aimed at her gender alone.
She is regularly the only woman in attendance at meetings and here, she calls on all women to be "unapologetic" in the pursuit of carving out a space for themselves, come what may.
"When I was consecrated I remember turning around to face everyone gathered in St Andrew's Cathedral in Aberdeen.
"There were women sat there with tears rolling down their faces.
"They were crying because the moment had finally arrived, the first female bishop.
"I've had a brilliant first year and I love Aberdeen, I love the people.
"I think when a woman is in a professional role, society can want her to negotiate herself into the space quietly.
"She should take up the least space in the room. I have never done that and I find myself making a stand these days.
"When I am in a meeting as the only woman, there will be a pause as people wait to see who will make the tea.
"I will never, ever make the tea, one of the men can do that.
"Women should be unapologetic about the space they inhabit.
"It's not easy though, and women still face enormous challenges today.
"Recently I travelled to another country and it's kind of the done thing that you meet with other bishops.
"This bishop in particular gave me some advice for going forward.
"He told me not to campaign on anything related to women.
"He said I should just be a normal bishop.
"I sat there and thought to myself, why on Earth should I keep my mouth shut?
"I think women have been conditioned from a very early age to put other people's needs before their own.
"There are times, of course, when that is very important.
"When I was at university I wanted to fit in.
"I was a good girl and I didn't rock the boat.
"These days, well these days I do.
"I have grown in confidence and I have found my voice.
"I remember my 40th birthday was a real watershed moment when I thought to myself, I know what I'm about now.
"I'm only going to be bishop for a few years and I'm going to make it count.
"That doesn't mean to say that there haven't been some really awful moments this past year, though. Moments when people have been so frank in how unacceptable I am in this role because of my gender.
"I am polite and I smile, I thank them for sharing their opinion with me.
"Then I have a huge cry on my own, I never cry in front of people.
"I don't doubt myself because I am sure I am the right person for the role; a role which is about belief after all.
"There are some days I can barely speak because I am so tired.
"I am campaigning against gendered violence and women have come forward to me with their stories.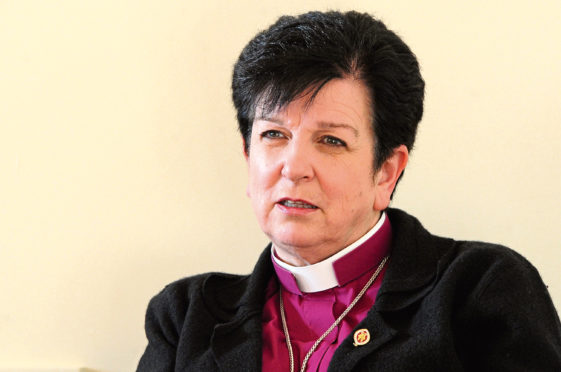 "I have heard quite a few historic stories from elderly ladies, and they have told me of the violence they endured.
"They have kept it a secret for decades and I don't think they tell me because they want some sort of retribution.
"I think by telling me, they find some sort of closure.
"Two women are killed each week by a current or former partner – that's shocking.
"We have got to make change because we aren't talking about this.
"We aren't asking why women are getting murdered.
"We aren't asking why cases of rape are not making it to court or why there are not many successful prosecutions.
"It's my role to listen to people and some of the things I've been told are just horrific.
"But I make it my business to chat to people, especially when I'm on the bus.
"I always say good morning very loudly and chat to whoever is sat or stood next to me.
"Dementia is very much on my radar because it keeps coming up in conversations.
"Once you've exchanged pleasantries and you get to talking about the real stuff, people often mention caring for elderly relatives.
"I think we're a very anxious society for numerous reasons, Brexit being one of them.
"People act out in different ways but I'm excited for what the next year has to hold.
"It is my stance in life that you should never try and be anyone other than yourself.
"If you are not yourself then people will sniff it out, so it looks like I'll continue to be an extrovert.
"I think women need to work together more and work with each other in order to carry on making big changes. Change isn't achieved or sustained easily and the next generation is learning from us.
"Just because I am a bishop, it doesn't mean that I don't like wearing make-up or dressing nicely.
"I call it dressing properly, if I dress properly then I feel like I am at the top of my game.
"I was ordained in the 1980s and there has always been this issue of what women in religion should wear.
"I tend to wear my purple shirt with a skirt and even if I'm working till late at night, it helps me to stay in role.
"I never go without make-up and a lot of women in religion don't tend to wear it.
"It's personal choice of course, but I wish women would wear make-up more instead of feeling like they perhaps have to be dowdy.
"If I get invited to a dinner, that can be a real nightmare because the Episcopal purple shirt has a very strong style.
"A male bishop would perhaps wear the shirt with a kilt, but I can't style it with a cocktail dress.
"It's the women who really tend to go for it when it comes to what they wear to evening events.
"I'm no different and over the years I've built up a fantastic collection of coats.
"One of my favourites is a purple Italian coat with a very fancy collar and it is massively attention seeking.
"Sometimes I think people are surprised that I enjoy doing the same things as them outside of work.
"I love watching TV and some of my favourite shows are The Good Wife, Stranger Things and I really like Game of Thrones.
"I can be quite bad for binge watching a show and I like having some sewing on my lap as well.
"If I'm on my travels I always try and find an art gallery or a museum.
"I love fine art and I love the fact that these places aren't churchy.
"Every year the diocese gathers together and I tell them what I'd like to do, and ask them if they'll do it with me.
"Obviously I hope they will agree and say yes or it will just be me.
"But if they don't, well… I'll go ahead and do it anyway."