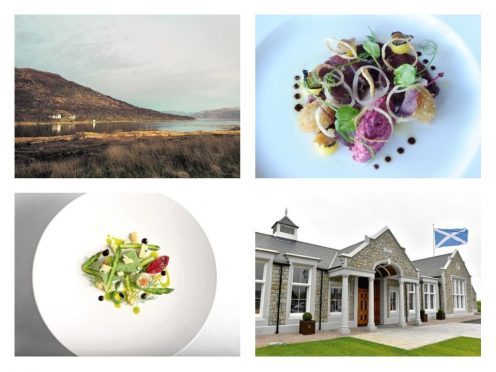 To celebrate the new year, we asked our food critics to pick some of their favourite places they've had the pleasure of experiencing over the past 12 months.
And here's what they chose:
1) Airds Hotel and Restaurant, Port Appin
We were presented with a tiny swirl of pastry, hardly bigger than my thumbnail, with segments of different colours. Sun dried tomato, vibrant green spinach and deep, dark olive tapenade created a Mediterranean rainbow in what must have been the smallest palmier I've ever seen. It looked lovely. And when I bit into it I was amazed that such a morsel could pack such a punch of distinctive flavours.
Special is a good word for the Airds. It is in one of the most glorious parts of Scotland, in north Argyll.
It's not just the views that bring people to the Airds. It has long had a reputation for its fine restaurant but I think the current owners and chef are taking it to a new level.
For starters he chose a foie gras and camomile sandwich. It looked wonderful. Thin layers of fried brochette and delicious foie gras looked posher than any sandwich I had ever seen before. It was delightful. I had a most wonderful pork ravioli. It was silky pasta packed with wonderfully sticky pulled pork along with a delightful sherry vinaigrette. The black pudding dust which finished it off sounded, shall we say, intriguing, but was a perfect garnish.
2) Bunchrew House, in Inverness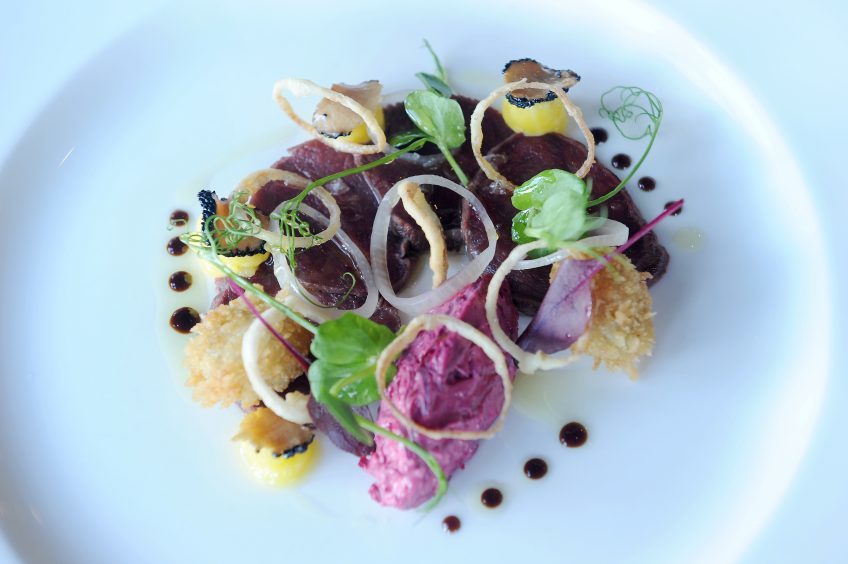 It had been a while since we had dined at Bunchrew House, so when a friend told us a new chef team had recently arrived and were "just a wee bit special" we decided it was time for another visit.
The menu looked every bit as tempting as I hoped it would, including delicious-looking vegetarian options. It didn't take us long to make our choices and be shown through to the sumptuous dining room where the glittering cut glass, polished silverware and gleaming crockery set on crisp white napery lit up the dark interior.
So good were the vegetarian options that this committed carnivore chose the Ragstone goat's cheese tart as a starter. And boy was it good. The pungent cheese was set off beautifully by sharp pickled walnuts and sweet honey truffle dressing. All housed in a wonderfully crisp water crust pastry. I was in heaven. I slowly cleared my plate of the unctuous melted cheese that was mixing with the sweet truffle dressing. I admit I disgraced myself using the freshly baked bread to mop up all the remaining juices. I was not going to miss a drop.
3) Kinloch Lodge, Skye
Having had our appetites whetted nicely with a salty tapioca rice canape shaped like a work of modern art, and a wonderful Brazilian treat, Pao de Queijo, a super cheesy choux puff that simply melted in the mouth, we were shown into the fully booked dining room.
Given it was a wild February night this served as a reminder of how highly regarded the restaurant is. Listening to the other diners happily chatting around us, it quickly became evident some had travelled great distances to be here, while others lived locally, which is always a good sign.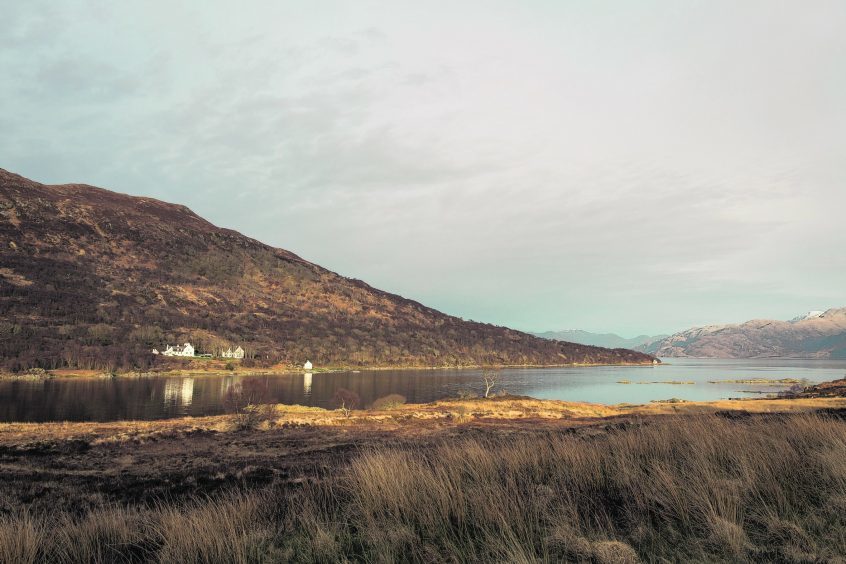 Having selected the five-course option from the menu, we began with an amuse bouche of butternut squash panna cotta topped with raisins and chorizo for myself, and a wonderful apple and blue cheese mixed leaf salad for my other half.
Never mind the paintings on the wall, these, along with the other dishes served, were works of art themselves.
For mains I plumped for a Black Isle lamb fillet served with cashew nut and black olive, caramelised apples and pears and dauphinoise potatoes, while my partner ordered the hake fillet with caper and pistachio pesto, Drumfearn mussels, cucumber and shallot dressing.
Michelin-star chef Marcello Tully has a policy of showcasing the best Highland ingredients and these dishes were great examples of this and his skills.
It's rare that a restaurant earns five stars for service, food and atmosphere, and dining here isn't cheap, but this fine dining experience made me wish I could have awarded Kinloch Lodge an extra star.
4) The Lovat Hotel, Fort Augustus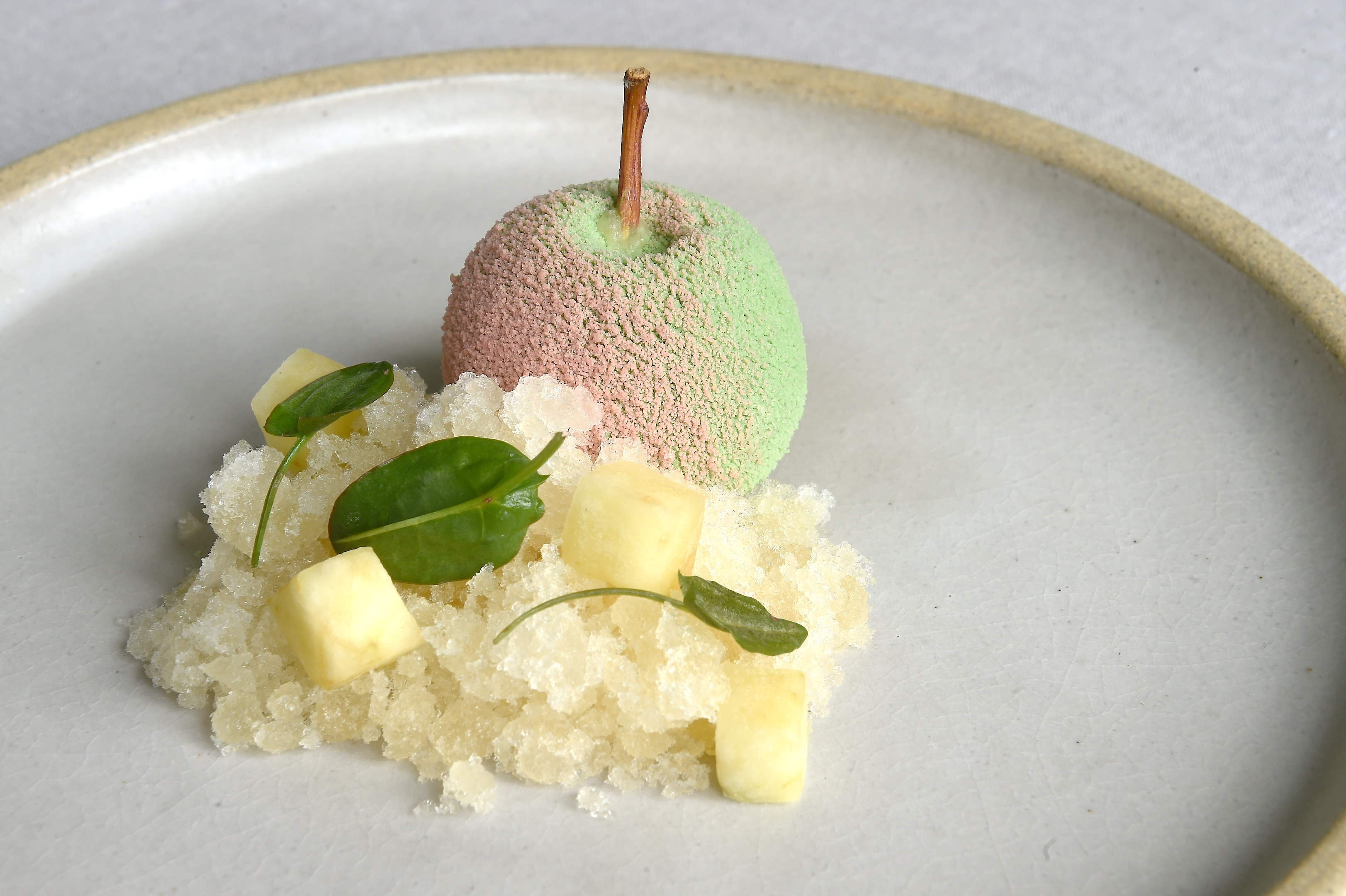 The Lovat Hotel in Fort Augustus has a brasserie which serves locals and visitors with excellent food. But I'd heard for some time they also have a great reputation for their fine dining restaurant, Station Road.
We had booked in for the five-course tasting menu. The first course proper was duck with beetroot served three different ways. One element, the duck liver mousse covered in a delightful beetroot jelly topped with the pickled stalks from a baby beetroot, was not just wonderful to look at but stunning to eat.
This was followed by a dish of prawn, scallop mousse and celeriac with the richest, most tasty prawn broth imaginable. I chose to enjoy the recommended wine flight with a small glass to accompany each dish and every pairing was a triumph.
And the treats kept on coming. A plate of squab pigeon cooked two different ways came next. The leg was beautifully prepared on the bone while the breast came in a delicate mushroom coat. It was the taste of the woodland and had me in raptures.
The whole meal was stunning in both presentation and flavour. A culinary tour de force from beginning to end.
5) Durn House, Portsoy
Situated on the outskirts of Portsoy, a quaint coastal fishing village on the north-east coast, the stunning country house hotel is set in its own grounds and was built by Sir James Dunbar in the 18th century.
My husband and I love to try diverse dishes and experience new things, and a taster menu gives you the opportunity to do so. And for just £45 per person, it certainly sounded a great deal.
Every dish was beautifully presented and served on large white plates or bowls. We started our feast with homemade rocket and salt and vinegar bread and broth with granola. The soup was thick and full of lentils while the granola gave it an unusual crunch.
This was followed by pork belly on buttered oatmeal, the pork melting in your mouth alongside the wonderful contradiction of the crisp crackling.
A light crab salad followed, then my husband's favourite course, duck with fresh tagliatelle. The tender duck breast was marinated in a delicious rich jus and the fresh ribbons of pasta were a surprisingly light accompaniment.
Next up was my favourite, Stornoway scallops with root vegetables and pesto – I could have licked the plate!
Excellent standard of food at an unbelievable price – people of Portsoy, you are truly spoilt.
6) The Fairmont St Andrews Resort
We enjoyed a lunch that can be summed up in one word – fabulous. The Fairmont not only met our expectations, but exceeded them and left us feeling like we had experienced a very special lunch.
The Jazz Brunch is served in the hotel's atrium-style Squire Restaurant on the lower floor. This was no pile-it-high buffet, but a stunning presentation containing lots of fine-dining-style dishes, each one a work of art.
Selections available included several types of sushi and sashimi (vegetarian sushi), each daintily presented and served with accompaniments including a tangy wasabi and avocado dip, crisp spring onions and sweet soy sauce. Fat juicy prawns in a Marie Rose sauce were served in little glass bowls, while glass petri-style dishes contained two types of smoked salmon. Chicken liver pate teamed with caramelised walnuts, ham hock with teeny dots of piccalilli, Parma ham and sweet melon. The choice not only seemed endless but showcased real cutting and presentation skills. It's easy to see why the Fairmont is gaining a reputation as a destination venue for foodies.
7) The Dunes Restaurant at Trump International Golf Links, Balmedie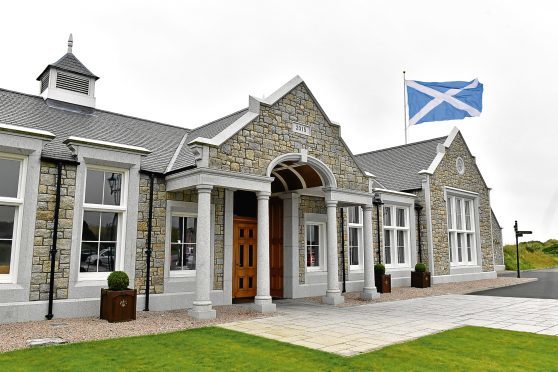 I have to say that immaculate springs to mind when describing Dunes – the up-market club shop, beautifully laid out dining room and the extraordinary "Great Dunes of Scotland" staring back through the end-to-end windows.
At Dunes, hake rubbed shoulders with 12-hour braised shin of beef and roast rump of Scottish lamb. We noted quite quickly, from the plates held aloft as waiters approached tables, that fish and chips at £16 (straight from the quayside at Peterhead) were doing a roaring trade, beer-battered with marrowfat peas. Irresistible, but we resisted the temptation and saved the fish and chips option for a later visit.
For starters, Cullen Skink for me and hand-dived Orkney scallops, accompanied by a small cut of roast pork, for my wife. It was fascinating to watch them serve it: the bowl arrived with its delicately cooked contents neatly lined up at the centre – Finnan haddock, leeks, potato and Mull cheddar. The king of sauces that gives Cullen Skink its distinctive creaminess arrived separately in a special white jug from which a waiter poured the soup very grandly over the contents. What a gorgeous touch and what a deeply delicious flavour with its heavy seasoning. The best Cullen Skink I have had.
8) Kincraig Castle, near Invergordon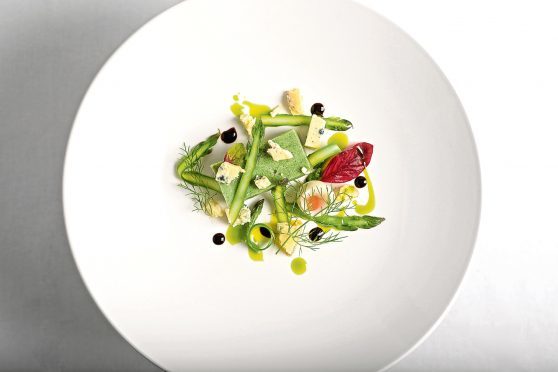 I suspect once word gets out about what's happening at Kincraig Castle Hotel in the hamlet of Tomich between Invergordon and Alness, the hotel will become one of the must-visit places along the North Coast 500 route. But whether you're a visitor or a local, this is a venue you must visit if you enjoy fine dining or simply want to experience a taste of the Champagne lifestyle while on a prosecco budget.
Over the course of the evening, we experienced a faultless masterclass in good service and fine dining, one which saw my partner and I marvel at the skills of head chef Stuart Thomson and his team. His menus highlight local produce while some dishes border on the ingenious, so be prepared to be blown away if you opt for the fine dining experience.
My haggis, neeps and tatties had been transformed from humble dish into a showstopper. A small complete haggis was placed on top of smoked mashed potatoes while the neep had been cut into matchstick-size strips and pickled. Another dish to blow us away. My partner's soft herb gnocchi with parmesan, cauliflower and parsley also elevated what could have been a simple pasta dish into something very special.