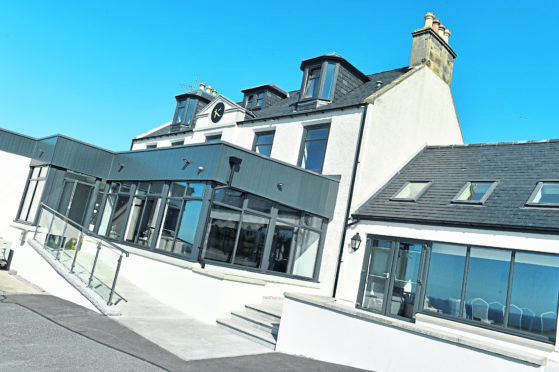 At a family gathering in Buckie recently, I happened to discover that my wife's great, great grannie was formerly the owner of a hotel in Macduff many moons ago.
This hotel was none other than the Knowes Hotel, an establishment that has been on our "to do" list here at YL for some time. That, and the fact my son's football team announced they were to play in Banff one Sunday morning, gave us plenty of reasons to go.
The only problem, however, was the fact the New Knowes, as it is now known, stops serving lunch at 2pm on a Sunday and my son's football match didn't finish until around the same time. No problem, we were told, they could still host us for Sunday lunch, as long as we ordered our food in advance. This is never ideal, as I prefer to wait to see what my stomach is in the mood for on the day, but it was good of them to accommodate us, so we went ahead and booked, after checking the menus on their Facebook page.
After a mad dash across from Banff on a scorching hot Sunday lunchtime, we found the New Knowes (pronounced "nows" rather than "knows") perched above Macduff in a prime location next to the impressive war memorial that looks over the town. This is a fantastic spot for the hotel as it commands glorious views over the bay. The perfect spot to enjoy some local seafood, as I was just about to do.
We received a friendly welcome when we entered the fresh, modern conservatory area. The interiors have been tastefully decorated in muted greys and are very "on trend".
We took in our surroundings after being shown to our seats and drank in the ocean views that were right in front of us. The restaurant was busy with Sunday diners, with a variety of customers including local ladies enjoying a catch-up over a few glasses of prosecco, overseas travellers in for a nice meal, a group treating themselves to an afternoon tea, and a private party taking place in the function suite.
Whenever dining with little ones, it's never good to have to wait a long time for your food to arrive, especially if one of them has just spent the last hour playing football, so we were delighted when our pre-ordered starters were brought to us withing five minutes of arriving.
I am a sucker for Cullen skink, so I was spoiled for choice when I saw it on the starters menu both as a soup and in the form of a risotto. I plumped for the risotto, while my son ordered the starter version. My Cullen skink risotto came with a poached egg, bacon salt and crispy potato and was delicious, if a touch on the sweet side. It was beautifully presented as well, which was a theme that was to be repeated throughout our visit. My son loved his soup, but again it was just a little too sweet for me.
Across the table, my wife and daughter absolutely loved their eye-catching carpaccio of pineapple, passion fruit sorbet and minted mango salsa. They said the flavours were tremendous. A real winner.
With the temperature outside hitting 22 degrees and the dining room being fairly full, the heat in the conservatory was quite intense. Buildings in the north-east of Scotland just aren't built to cope with these conditions. That would be the one drawback of having so many windows to admire the sea views. And there is even a large window into the kitchen if you want to watch the chefs creating your meal.
Shortly after we had polished off our starters, our mains arrived. We'd have liked a little more time between courses, but it was our fault for booking so late.
I had taken a while to decide on mine as the menu offers a fantastic choice, but with the area being renowned for its fresh seafood, I went for the poached haddock with lemon crab crust, garden pea risotto, seasonal veg and new potatoes. Once again, the presentation was wonderful. The crab crust was moreish and unlike anything I'd tasted before. The pea risotto could have done with a stronger flavour, but the vegetables were beautifully cooked while the haddock was flaky, light and had a wonderful flavour.
My wife was delighted that there were four vegetarian dishes to choose from and her Thai green vegetable curry met with approval. Again, the presentation was well thought out with separate compartments for the spiced onions and mango chutney, and the dish came with naan bread and basmati rice too. It was full of flavour and she wiped the plate clean – in a ladylike manner, of course!
The children ordered sausages and a burger from the kids menu and both enjoyed their respective dishes.
We didn't think we had room for dessert, but in the name of research we decided to share a lemon cheesecake, while the kids had some chocolate cake and Simpsons ice cream. Well, this course trumped all that went before it in terms of presentation. And as for flavour it was light and delicate and really cleansed the palate. And of course the kids devoured their Buckie ice cream.
We thoroughly enjoyed our visit to the New Knowes Hotel. Its website states chef-owner Wayne Stewart prides himself on using fresh, local Scottish produce to create great dishes, and we can testify to this. Wayne should be commended for creating an ambitious, well thought-out menu with plenty of choice to suite all tastes.
I'm sure my wife's great, great grannie would have approved.