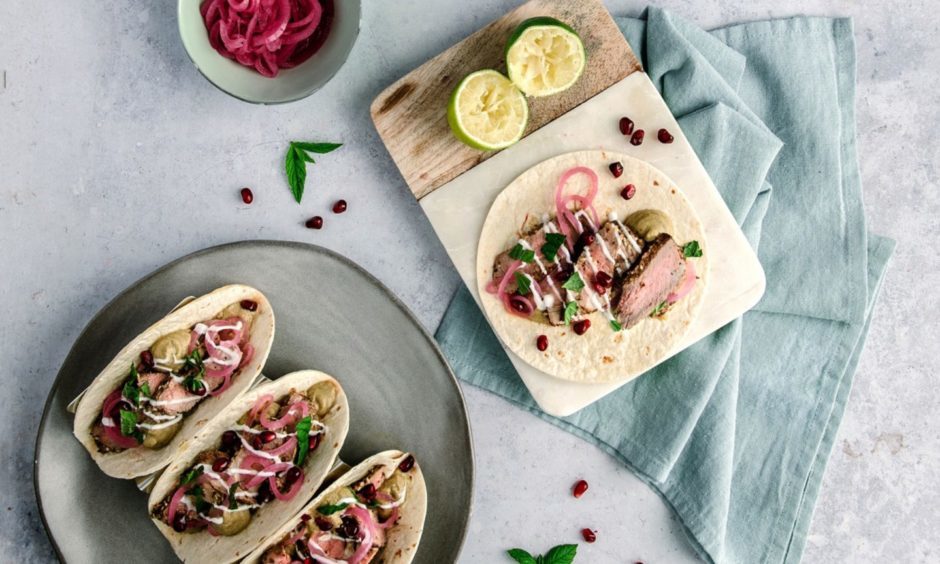 Mexico meets the Middle East with this fusion sensation for Love Lamb Week.
If you're looking for new ways to serve up traditional favourites, this is the ideal recipe.
With lots of healthy accompaniments and fresh flavours, this dish may sound elaborate – but can be prepared in 30 minutes.
By marinading the meat before cooking, the result is a tender and tasty lamb dish served in a style the whole family will love. And don't be put off if you can't find za'atar at your local supermarket – you can substitute with more frequently-used herbs and spices suggested in the cooking instructions below.
This delicious recipe was supplied by scotchkitchen.com for Love Lamb Week.
---
Scotch lamb tacos with za'atar and baba ghanoush
(Serves 4)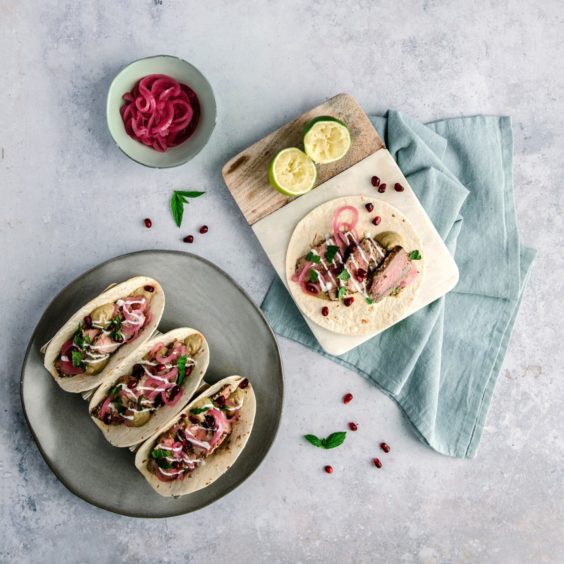 Ingredients
4 x 150g Scotch Lamb leg steaks
45g za'atar seasoning
1 tbsp Scottish rapeseed oil
For the baba ghanoush:
2 aubergines, halved
1 tbsp Scottish rapeseed oil
Juice of 1 lemon
2 garlic cloves, peeled
Small bunch freshly chopped mint leaves
Salt and pepper
For the pink pickled onions:
25g white sugar
200ml water
100ml white wine vinegar
2 red onions, peeled and thinly sliced
To serve:
8 x mini tortillas
40g fresh pomegranate seeds
Small bunch fresh mint leaves
50g low fat yogurt
Juice of 1 lime
Method
For the Scotch lamb, in a bowl mix the lamb steaks and Za'atar seasoning together, ensuring the lamb is evenly coated. Cover and leave to marinate for an hour. Preheat the oven to 180C, 160C Fan, Gas Mark 4.
Heat the oil in a non-stick frying pan over a high heat. Add the steaks and fry for 3 minutes on each side. Transfer to a non-stick baking tray and finish in the oven for a further 3-4 minutes. Allow the lamb to rest for a few minutes.
For the baba ghanoush, season the aubergine halves with salt and pepper and drizzle with the oil. Put the two halves back together, wrap in foil and bake in the oven for 30 minutes.
Remove the aubergine from the foil and scoop out the aubergine flesh. Place the flesh in a hot frying pan over medium to high heat and cook off for 5 minutes, to remove the excess moisture.
Transfer to a blender or food processor and whizz together with the lemon, garlic and herbs. Season to taste.
For the pickled onions, place the sugar, water and vinegar in a small pan and bring to the boil, add the sliced red onion and cook for 1 minute. Remove from the heat and allow to cool in the liquid, then drain and set aside.
To serve, heat the mini tortillas according to pack instructions. Top each tortilla with the baba ghanoush. Slice the meat, going against the grain and place on top of the aubergine mix. Sprinkle over the pickled onions, pomegranate seeds and mint leaves. Drizzle with the yogurt, finish with a squeeze of lime juice and serve immediately.
Tip: If you can't find Za'atar seasoning then make your own using 2 teaspoons each of cumin, sesame seeds, sumac and dried oregano.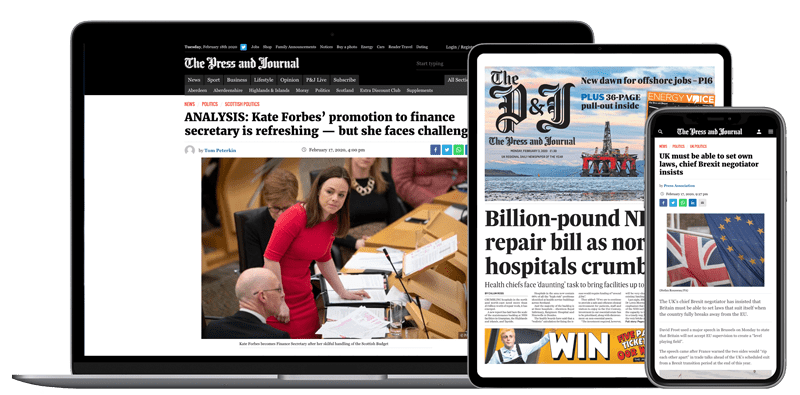 Help support quality local journalism … become a digital subscriber to The Press and Journal
For as little as £5.99 a month you can access all of our content, including Premium articles.
Subscribe