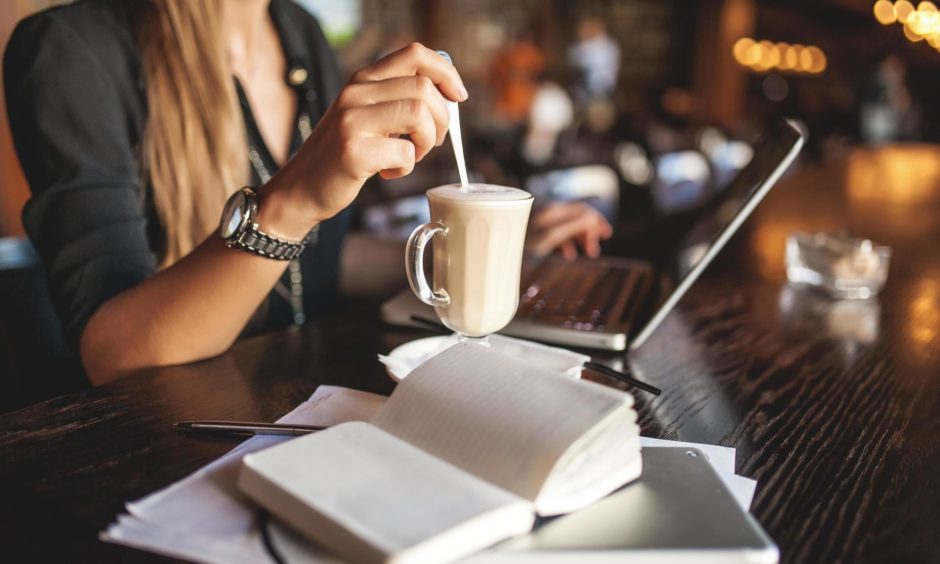 Some venues may not be able to open for evening service, however, many are making the most of day-time offerings with new 'work from' packages.
It's been seven months since many people first started their working from home journey.
And though it may have seemed like a luxury to begin with, as more and more people crave social interactions, the thought of looking at the same four walls all day can become increasingly less appetising.
With the latest Scottish Government restrictions meaning hospitality businesses have to close indoor venues at 6pm, many have diversified by looking at ways to attract customers in during the day.
Launching a range of 'work from' packages, venues across Aberdeen have pulled together to offer spaces for the public to work 'from home' in a different environment.
Work from 210
One eatery doing just that is 210 Bistro on Market Street. Usually buzzing with office workers most lunchtimes, Adele Callan, owner of 210 Bistro has once again adapted to the latest restrictions to entice the public back out.
She said: "It's really a way of trying to tap into a daytime market because, at the moment. our usual lunchtime trade is slower as the majority of it would have been the offices around us. With everyone working at home our lunchtime trade has been badly affected.
"Hearing from people who are working at home looking for somewhere to go to work and get out of the house was also a driver in launching it. Some people don't have the best set-up to work effectively at home so coming to 210 Bistro has proven really useful for them.
"Prior to lockdown we launched our meeting rooms at the bistro and we had delegate packages for bigger numbers. We've taken that, condensed it and tailored it to one person."
With three different sections to pick from including a quiet zone and the pop-up sky bar which boasts stunning views of the harbour, there is plenty of space within the eatery to relax and work away in.
Adele added: "We've got three separate areas. Our pop-up sky bar is open and we have a few tables allocated for the 'Work from 210' package. It is mainly filled with tables for lunch, but this sort of environment is suitable for those who don't mind background noise. There's a note on the website where they can book informing everyone of this.
"Our restaurant area on the first floor – our biggest space – has been reserved for Work from 210 customers. This is a guaranteed quiet zone and there won't be background noise and it will be fairly quiet.
"From day one when we reopened after the initial lockdown in July we've made sure we have really stringent procedures in place. Our tables are still spaced at two metres as we think it gives customer confidence that there is that space. We have hand sanitiser throughout the building and a one-way system in place with customers taking the lift up the stairs and walking down them which is working really well."
Proving popular with customers already, Adele was delighted to sell out of table space last Friday when she launched the concept.
Priced at £15 the three-hour package also includes lunch, three teas or coffees, free nearby parking, a homemade mini chocolate brownie, free Wi-Fi, a plug close to your table and complimentary mints. Work from 210 runs from 11am to 5pm on Fridays, and Adele has already introduced Thursdays due to high demand.
"It has been really good. Friday past was the first day we had offered it. We sold out all of the tables we had available and we had a lot of people posting about it online. The initial post we put on social media got a lot of attention. It appeals to so many people who are in this working from home environment so it has gone down well," said Adele.
"This week we are running it Thursday and Friday and we'll continue to run it in the future.
"We've had some great feedback. We've had people rebooking and I think that's a sign that we're doing something right. The short timeframe we have to develop these ideas has been challenging as in a normal situation we'd come up with something and take weeks to develop it and market it, whereas we're having to think outside of the box and implement things quickly as the government restrictions change."
Work and study packages
Also pricing their 'work from' package at £15 is The Globe Inn on North Silver Street.
Owned by Paul and Emma Beattie the couple decided to implement the new offering two weeks ago to encourage more people to come out to support the hospitality industry throughout the new restrictions time period.
While Paul envisioned they would see numerous customers looking for a quiet place to work from, he admits that the business has seen more bookings of groups of two households, with meetings and group projects.
He said: "We just introduced it within the last two weeks. We thought that a lot of people have been working at home and haven't been able to see their work colleagues as such and because two households can meet in the pub, we thought it was a great chance for people to get together and work together at the same time.
"We've found a lot of people have been using it to work on projects together. Students have also been doing the same. They haven't been able to see each other or work together so they have also been using this as a chance to do so. We're finding it is more two different households meeting up to work together rather than individuals.
"I thought we'd get a lot of individuals looking for a break from the house or their kids, but it seems to be more people looking to get together."
Looking to run the offering indefinitely, Paul is keen to see more people take advantage of the offering while things are a little more challenging for the hospitality industry.
Like 210 Bistro, The Globe Inn also includes lunch within its offering and will run it from 9am to 5pm Sunday to Thursday. Unlimited teas and coffees will also be available, as well as free Wi-Fi with a plug located close to the table.
He added: "We're running it between 9am and 5pm just now. We obviously have to close at 6pm inside, although we do have outdoor seating open until 10pm, but the package is £15 and you get your lunch included in that, too. There's free tea and coffee all day as well.
"We're on week two and have been advertising it for just less than a week. We've had bookings for it every day which has been great so we're hoping more people will come and try it out.
"It went down really well on social media and everyone who has been that we've spoken to has really enjoyed it and said they'd use it again.
"I think we'll keep it going, I don't see any reason why we wouldn't. It is a reason to bring people out and use the facilities we have. It is also a great way to support hospitality just now as well."
---
More places to work from in Aberdeen…
Malones – Aberdeen
While they have no official package in place, Malones is offering everyone free tea and coffee when working in the premises until the 6pm restrictions on hospitality are lifted.
They also have free Wi-Fi available but advise bookings must be made online in advance.
In line with Scottish Government restrictions no alcohol can be served inside, but their outdoor area can also be booked where customers can enjoy mulled cider and more until 10pm. Food can be served both in and outdoors.
---
Harbour Bar – Gourdon, Aberdeenshire
The Harbour Bar has a £10 'work from' package which gives customers a three-hour time slot to use the Wi-Fi (with a plug socket at the table), enjoy endless tea or coffee and pick a toastie of their choice.
There's a £15 premium package which, instead of a toastie, includes a pizza or cheese burger or choice.
There are five tables to choose from and VAT receipts can be supplied, too, if needed.
---
BrewDog Castlegate
When it comes to dog-friendly places to work from, BrewDog's Desk Dog package is ideal, especially if you are looking to get out of the house with your four-legged friend in tow.
Featuring unlimited Wi-Fi, unlimited tea and coffee, and a pint at the end of your session to take away to coincide with the Scottish Government's no-alcohol sales indoor regulations, you can sit in the bar all day until 4pm for as little as £7.
It costs £70 for a season pass (28 days) and they also have a range of food you can tuck into, too.
Bored of working from home? Shake things up with a Desk Dog Season pass.Enjoy free wifi, unlimited coffee and a pint…

Posted by BrewDog on Monday, 17 August 2020
---
Harvester – Aberdeen
If the same four walls are starting to get boring then Harvester on Great Southern Road in Aberdeen's Harvester Desk might be what you need.
From 9am to 6pm every day customers can book a three-hour session for £10 and receive free Wi-Fi, a plug socket by their table, a comfortable bench in the quiet side of the venue, unlimited tea or coffee, and a full Scottish breakfast (before 11.30am) or a wrap or burger (after 11.30am).
Booking online is essential.
---
Fierce Bar – Aberdeen
With no specific package the team at Fierce will welcome those looking to work from their bar with open arms.
Boasting comfortable booths, coffee, Wi-Fi and more, there's plenty to keep you fuelled at Fierce Bar as you take a break from your own home.
---
The Spider's Web – Dyce, Aberdeen
Again, like the team at Fierce Bar, The Spider's Web in Dyce doesn't have a set package, however, does have plenty of space for you to pick where to work in peace.
It it also running a full food menu, too, meaning there is plenty to keep you going when working away from home.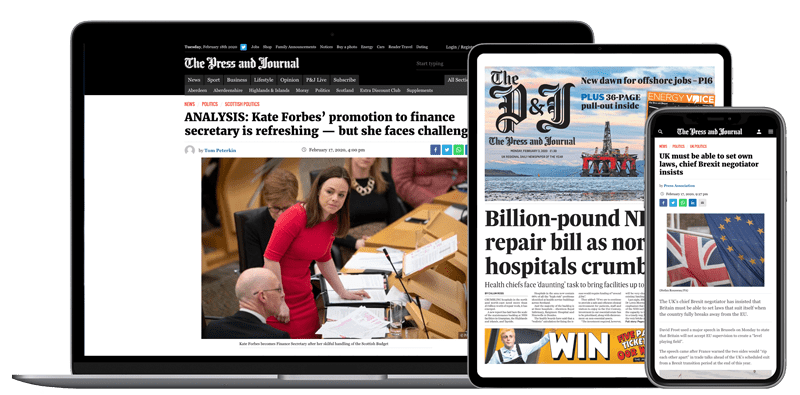 Help support quality local journalism … become a digital subscriber to The Press and Journal
For as little as £5.99 a month you can access all of our content, including Premium articles.
Subscribe