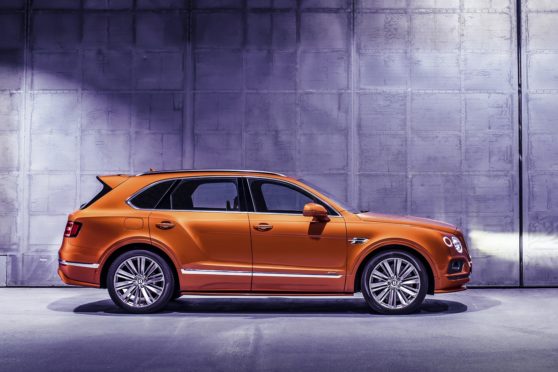 While some may be surprised to see Bentley producing an SUV, those who've kept an eye on the market have had plenty of time to get used to the idea.
We had our first hint at what would become the Bentayga back in 2012 with the EXP 9 F prototype. Here, elements like the engine and overall size gave us a good indication of what was to come, though much has changed visually since the first controversial concept was shown.
Taking on board criticisms from press and potential customers alike, Bentley has made sure to put the "sport" into its SUV.
Both the W12 petrol unit and the V8 diesel engines aim to give best-in-class performance, while the styling looks very Bentley-orientated.
Underneath there's architecture shared with the MK2 model Audi Q7 and the third-generation Porsche Cayenne. If the Q7 is anything to go by, that bodes very well indeed.
It's fair to say that engines will dominate the driving experience of the Bentayga.
Most will want the V8 diesel which generates 435PS, enough to make this the world's fastest diesel SUV – rest to 62mph dispatched in just 4.8 seconds en route to 168mph.
Plus there's an awesome 900Nm of torque, so almost nothing will stand in this car's way.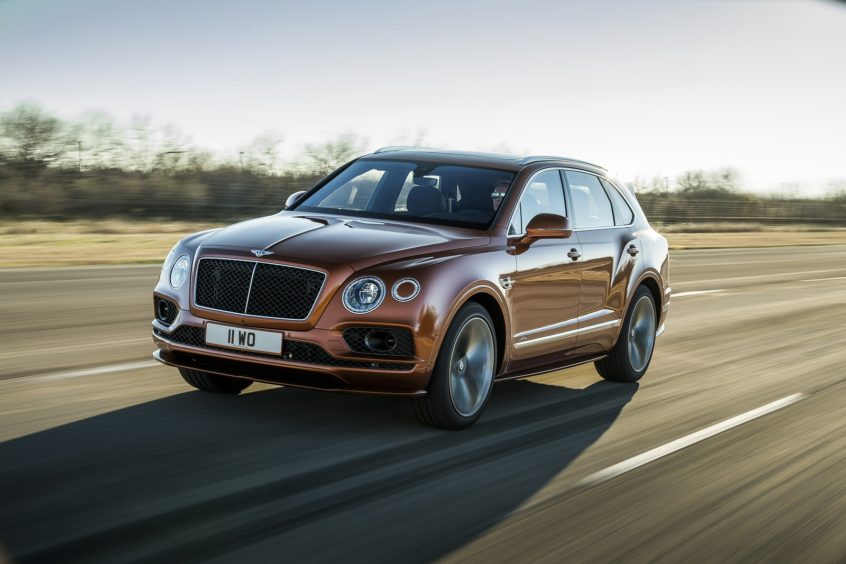 The first alternative is a 542bhp 4.0-litre petrol V8. Or, if you prioritise efficiency, there's a turbocharged 3.0-litre V6 petrol plug-in hybrid model which has an all-electric driving range of 31 miles.
Go for the W12 petrol option and you get a 6.0-litre 12 cylinder unit with 608PS and 900Nm of torque. Despite this variant's prodigious 2,422kg kerb weight, 62mph from rest takes just 4.1 seconds – faster than a Porsche 911 Carrera. Flat out, you'll be doing 187mph, a figure way beyond any of its competitors.
And you can go faster still by getting the W12 engine in uprated 635PS form in the flagship Bentayga Speed model, which makes 62mph from rest in just 3.9 seconds on the way to 190mph.
On all Bentaygas, to make sure that this big brute doesn't embarrass itself around corners, there's a fast-acting 48v electric anti-roll bar system.
Unlike conventional fixed anti-roll bars, this allows the Bentayga to remain supple over bumpy roads while still resisting roll around the twisties.
It also ensures the big Bentley has plenty of ability off the beaten track, even if most owners will probably never try it out.
Step inside and there's acres of leather and wood covering every surface imaginable, while if something looks like metal, it will be.
The sweep of the dashboard is said to echo the wings of the Bentley badge and certainly looks very attractive – assuming you've chosen a tasteful colour scheme.
Infotainment is taken care of by a smart 8" touchscreen system that delivers a class-leading navigation system along with on-board wifi for mobile devices and a removable 10.2" Bentley entertainment tablet for rear seat passengers.
Bentley describes the Bentayga as the "fastest, most powerful, most luxurious and most exclusive SUV in the world". It should therefore come as no surprise to hear that it'll cost a pretty penny to purchase.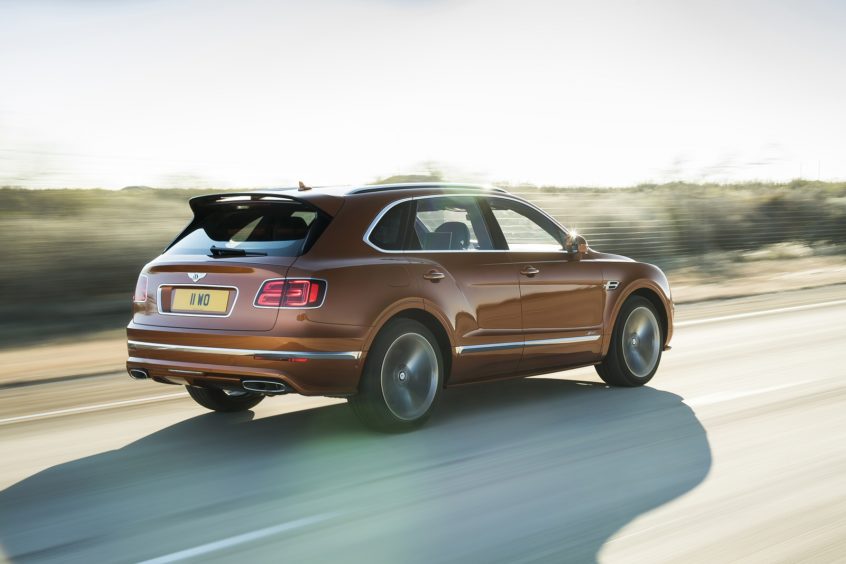 The diesel version costs around £136,000, while the standard W12 petrol model is around £163,000.
And, as with all Bentleys, this is only the beginning.
You can pick between a three-person bench or two individual seats in the back with a wide centre console. On the subject of seats, you can even get an "eventer package" with a fold-out bench in the boot.
Even the V8 diesel can only manage 35.8mpg on the combined cycle and 210g/km, though Bentley points out that this makes this variant the most efficient car it makes.
With the standard twin turbocharged W12 petrol unit, combined fuel consumption is a lowly 21.6mpg, necessitating a giant 87-litre fuel tank.
CO2 is similarly frightening at 296g/km, enough to put it firmly into the top bracket for tax and first licence rates.
You can do much better though by opting for the 3.0-litre petrol plug-in hybrid version which delivers combined emissions of just 75g/km and has an electric driving range of 31 miles.
In summary, you can see why it took Bentley so long to get around to bringing us this car. But having tried it, we've ended up being very glad that it did.