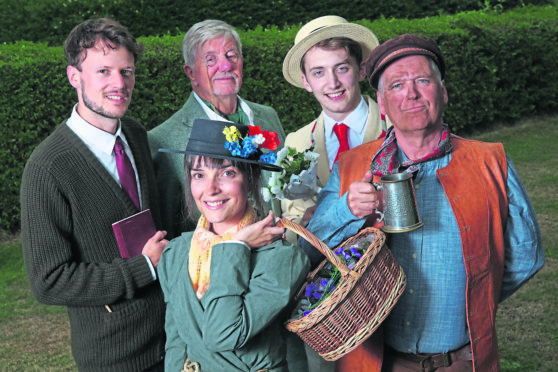 If you thought Alison Ozog was good as Sandy in Starlight Musical Theatre's production of Grease, wait until you see her play Eliza Doolittle in their latest show, My Fair Lady.
She is simply, superb.
In the opening scenes, set in Covent Garden where she's desperately trying to sell flower posies, she sounds like a woman born within the sound of Bow Bells, so convincing is her Cockney accent.
And by the end of the show, you're convinced she was born with a silver spoon in her mouth.
A great mimic, a convincing actress and a wonderful singer, Alison deserves to be seen on stages far beyond the Highlands.
Not that she was alone in delivering a star performance…
Matthias Kremer was very convincing as Professor Henry Higgins, a phonetics expert who believes that the way a person speaks, determines their place in society, and he himself delivered perfectly, some pretty tongue-twisting lines.
The prof makes a bet with a fellow phonetics expert, Colonel Pickering, that he can teach Eliza to speak so nicely that he can pass her off as a member of high society at a forthcoming embassy ball.
Set in Edwardian London, I'm sure I wasn't the only one in the audience who squirmed a little at the professor's attitude towards Eliza, when he at various times, referred to her as baggage, being filthy and a guttersnipe.
But that's one of the main strands of this classic play.
Is it the professor who bullies Eliza and considers her to be a worthless creature without feelings the ignorant one, or is it un-educated Eliza who is ignorant?
It's a great story backed with some tremendous musical numbers which have become musical theatre classics including, Wouldn't it be Loverly, With a Little Bit of Luck, The Rain in Spain, I could Have Danced All Night, On the Street Where You live, and Get Me to the Church on Time.
The latter song, alongside, With a Little Bit of Luck, injected a huge amount of humour into the show thanks to the performance of Alan MacLeod who starred as Eliza's dustman father, Alfred.
Again, he'd beautifully mastered the Cockney accent perfectly and made for a very believable, cheerful but bit-of-a-rogue, figure.
Other players who put in a strong performance included Alasdair Davidson as romantic, Freddy Eynsford-Hill Alan Holling as Higgins' side-kick, Colonel Pickering.
With wonderful sets and costumes, a cast of 40, and classic tunes played well by the company's own orchestra, Starlight presented a wonderful interpretation of this classical musical which is fairly long, with the curtain not falling until 10.40pm after a 7.30pm start on opening night.
My Fair Lady runs until tomorrow with performances at 7,30pm each evening, with a Saturday matinee at 2.30pm.