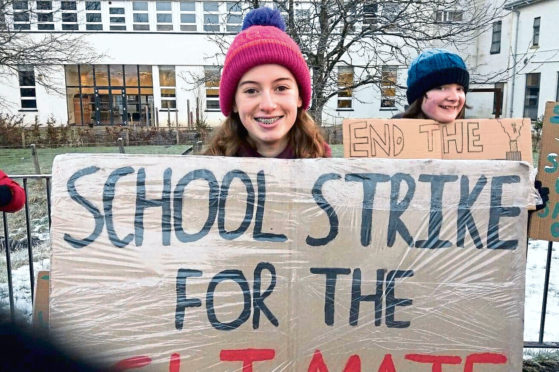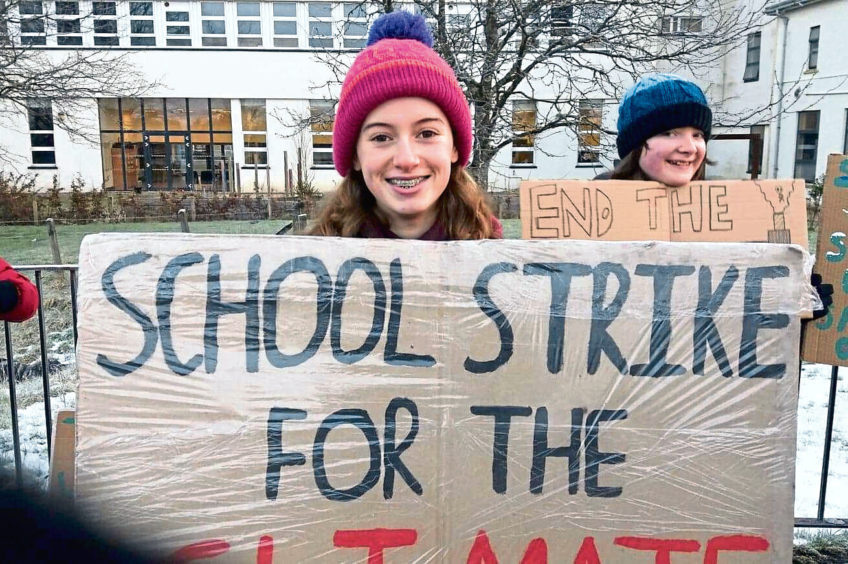 Holly Gillibrand is no stranger to the media, having suddenly found herself thrust into the spotlight for what she believes in.
Her eloquence and steely determination is that of someone far older and experienced – yet Holly is only 13 years old.
However, she has already been highlighted as a young female voice to emerge from the next generation, who have taken it upon themselves to stage a remarkable protest against climate change.
With more than 4,000 followers on Twitter, Holly is no longer just a schoolgirl in Fort William.
From highlighting the stunning countryside on her doorstep, to meeting with politicians and leading the way in radically reforming Scotland's grouse moors, Holly will not stop until her message is heard.
She is now an environmental columnist for her local newspaper and made it clear The Press and Journal team should only meet her using green methods of transport.
She has stood outside Lochaber High School every Friday for the past four months, once in temperatures of minus eight, in a bid to make her cause heard.
Holly was inspired by fellow teen Greta Thunberg, who, in September, sat outside the Swedish parliament for three weeks on "school strike".
Her actions helped spark a global movement after Greta accused her country of not following the Paris Climate Agreement.
Tens of thousands of children around the world have since been inspired to hold their own demonstrations and Holly has become a key figure in the Scottish strikes.
She has already grilled First Minister Nicola Sturgeon as to why Scotland is in the worst third of countries for carbon per capita and says she feels angry at the lack of action.
"I'm angry that Scotland claims to be leading the way, when we are in the top 20 countries in the world for carbon emissions," she said.
"I'm angry that people don't know that 200 species go extinct every day and I'm angry because Scotland on the whole is a mess.
"There has been a lot of media attention, which has been overwhelming at times, but if it makes our voices heard then it needs to be done.
"I'll carry on striking through the school holidays, because climate change doesn't take a break."
Holly is usually only joined by a handful of other pupils for her one-hour pavement protest each week, despite the fact there are 800 students who attend the school.
The strikes are not supported by Highland Council, although Holly's teachers have tried to find subtle means of encouragement.
"They've thought about teaching only environmental studies on a Friday in solidarity for me," she said.
"Before I listened to what Greta had to say, I just wasn't aware at all, because the issues aren't taught in school.
"I'm scared for our future, because we're at risk of losing so much if we don't start taking action.
"I never thought that I would be able to have such a big impact, but we need more voices.
"This is my first protest and it is quite incredible to see what youth can achieve."
Fellow pupil Finlay Pringle is perhaps a kindred spirit.
The S1 pupil can be seen outside Ullapool Primary School every Friday without fail and while his classmates learn times tables, Finlay proudly waves his banners in the hope he might just make a difference.
The 11-year-old may raise a few eyebrows with his passion and determination, but you would be foolish to underestimate his cause.
He is now in his fourth month of striking and has protested through snow, rain and wind, with his home-made signs weathering the storm.
Spelled out in careful handwriting, they read "There is no planet B, march now or swim later".
"I've been going on strike since December 14. I stand outside school for one hour every Friday," said Finlay.
"There have been days when it has been snowing or really stormy, but I'm not giving up.
"I hope the rest of Scotland will take notice and start going on strike; it needs to happen across the country."
Finlay has recently returned from a meeting in Strasbourg, where he represented Scotland at a gathering of more than 60 young climate change campaigners from 20 nations.
"It was incredible, but now we need people to actually listen to us," he said.
"I've always been interested in climate change and the impact it has on the planet.
"It started when I watched wildlife programmes and I am very passionate about marine life as well.
"If we start making these changes in 10 years' time, it will be too late.
"We need to make changes now. Even things which might seem small can make a difference.
"Me and my sister, Ella, who is nine, walk to school to try and reduce our CO2 emission.
"I'm vegetarian and I'm also encouraging my mum and dad to buy a hybrid car.
"I think children can make a difference because we have a more powerful voice in comparison to adults.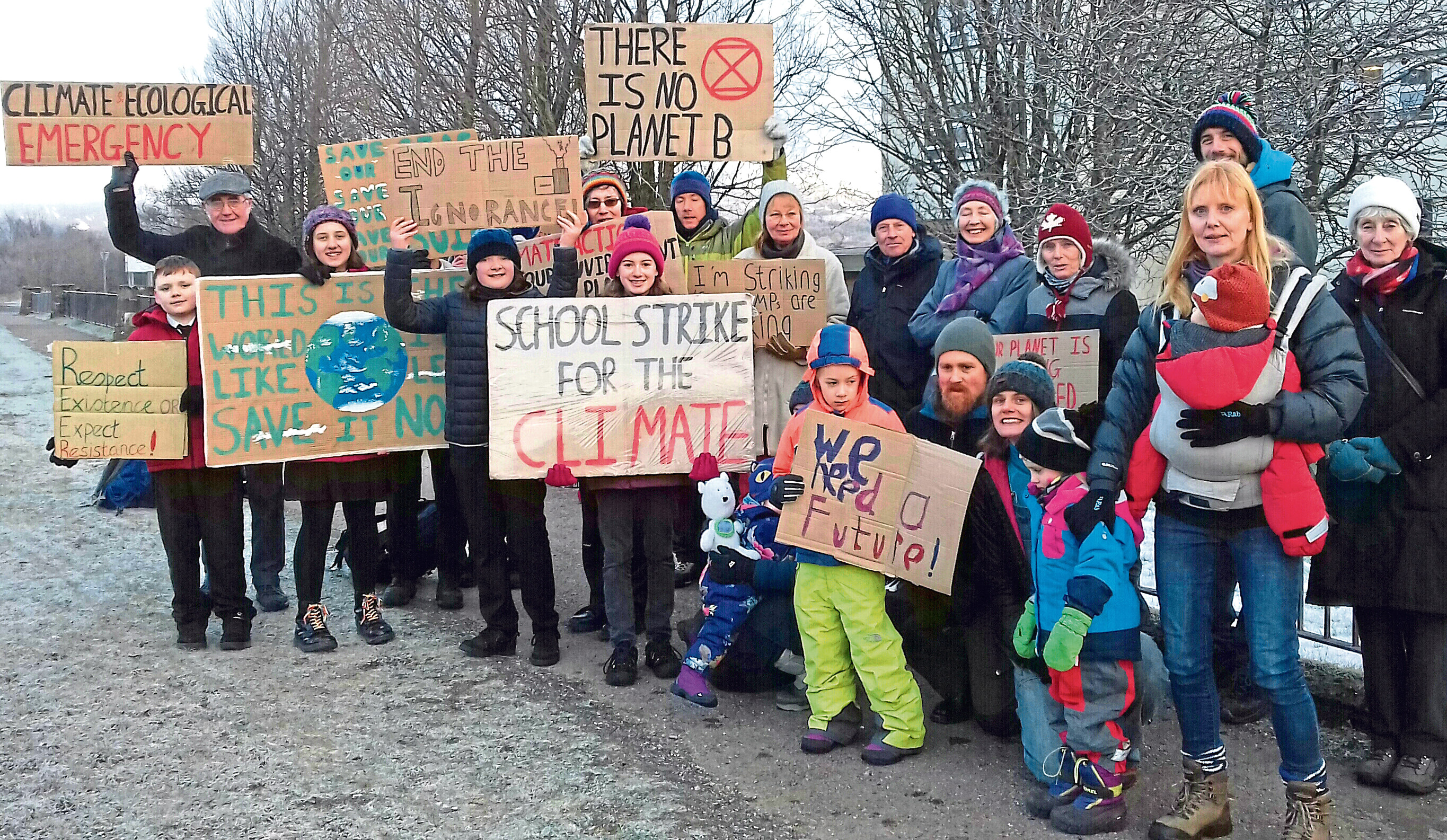 "Adults don't really listen to each other, whereas they listen to children."
For Finlay's mother Rach, his passion comes as no surprise.
She is supportive of her son's efforts and has even made big changes to try and live a more sustainable lifestyle.
"If you've had a chat with my son, you've been Finlay-ed," she said.
"He is pretty amazing and his knowledge is unreal, he even corrects me.
"We used to eat a lot of meat as a family but thanks to Finlay, we've cut right back.
"We now eat meat once a week and I try and make sure the meat comes from local crofts.
"We're also very close to getting a hybrid car.
"I'm very proud of Finlay and Ella and I don't worry about them missing school for that one hour.
"I think children are incredibly powerful in the fight against climate change, they can make the difference."
It would seem Ullapool is leading the way when it comes to taking action, after becoming the first village in the UK to ban the use of plastic straws.
The initiative was founded by Ullapool Primary School pupils and Glasgow's Sunnyside Primary, who were on a field trip to the village.
Fourteen businesses have either gone straw-free or are using alternatives to plastic, including paper straws.
Members of Sea Savers are hoping the move will see a decrease in the thousands of plastic straws contributing to marine pollution in the area.
The group says it is run by children, for children and its seven members make fact files about marine animals before distributing the information around the village.
Local mum Janis Patterson, whose two daughters Maia and Megan are members, believes the group has already had an impact.
"It came off the back of the straw campaign, people actually listened to the kids and it was a wake-up call on the harm we are doing to the environment," she said.
"I think after speaking to businesses, the children realised they can speak for themselves.
"So they wanted to carry on with their work outside of school.
"They've been doing a lot of fact files on marine animals and putting up window displays.
"People are so supportive and I think there is something really powerful about these kids.
"They are so knowledgeable and this is their chance to make a difference.
Fellow mum Gillian Meighan has also been inspired by the group and her 12-year-old son, Josh, is a member.
"The group is just fantastic and I think when you live somewhere like Ullapool, it makes you even more passionate about protecting the environment," she said.
"The children have been campaigning against plastic pollution and kelp dredging.
"They've also been promoting the rock pools around the new pier.
"I admire the kids so much and they feel so strongly that they can make a difference.
"There's no escaping the fact that we have been trashing the planet.
"I've even made changes, like not buying plastic bottles or using clingfilm.
"We've been using paper bags or making our own bees wax wrapping."
Josh has been instrumental in helping his family live a greener lifestyle.
"I'm a dolphin ambassador for sea savers and I've been putting up files in shop windows around Ullapool," he said.
"I used to doubt whether my voice could make a difference, but now I know that it can.
"People are listening to us and we won't stop until big changes are made."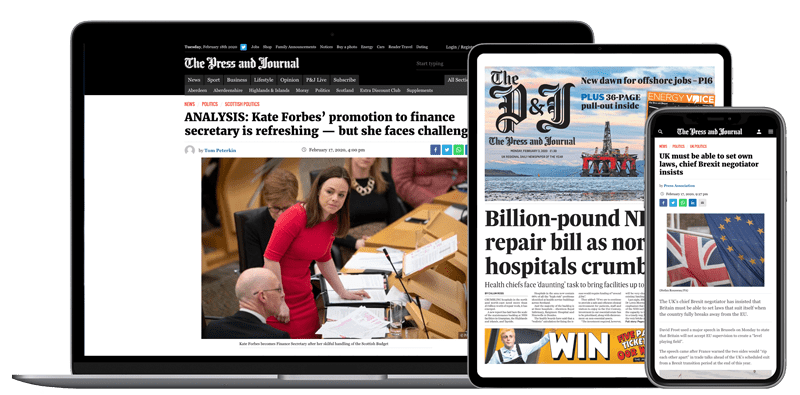 Help support quality local journalism … become a digital subscriber to The Press and Journal
For as little as £5.99 a month you can access all of our content, including Premium articles.
Subscribe