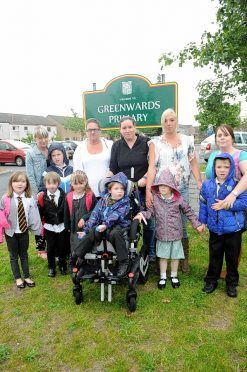 Moray Council has advanced with plans to slash classroom support posts, despite angry protests from parents at the move.
The local authority is rolling out a new approach to educating youngsters with additional support needs, which involves cutting staff and hours at primary schools including Greenwards in Elgin and Hythehill in Lossiemouth.
Parents have responded that withdrawing individual support from youngsters who need it will affect the education of every child in Moray.
One mum, Nicola Nash, accused the council of "attacking" the area's most vulnerable people. But education bosses dismissed the parents – whose campaign has amassed 850 supporters online – as a "small minority making problems".
The council's inclusion manager, Pat McLennan, claimed that previous methods of allocating support staff had resulted in some schools receiving more provision than they required.
She argued that, under the new system, some schools would gain extra support hours.
Fochabers Lhanbryde councillor Douglas Ross urged his fellow members to postpone any decision on the contentious move until thorough discussion with parents had been carried out.
Mr Ross said: "I would like to defer any changes, we can't implement a new formula this way.
"Parents have the right to be involved in this debate and this discussion, they are hugely worried."
Director of education and social care, Laurence Findlay, admitted that lessons had been learned about the need to make parents aware of proposals affecting their children's education.
But he added that a 123% rise in ASN children was putting an "increasing pressure" on the area's classrooms, and that one-to-one teaching was being purposefully reduced, because as it could be "isolating".
Forres member George Alexander moved to progress the scheme and Keith councillor – and SNP group leader – Gary Coull endorsed the plans after adding the proviso that the authority arranged to meet with unhappy parents to explain the new process.
Mr Alexander's amendment was ultimately passed by 11 votes to four.
Following the meeting, Mr Ross said he doubted whether the authority's offer to meet with parents would be enough to allay concerns.
And last night, campaigner Gillian Groves declared she was "absolutely fuming", and vowed to continue to fight the plans.
The parent group will meet Moray MSP Richard Lochhead on Monday to discuss their next move.