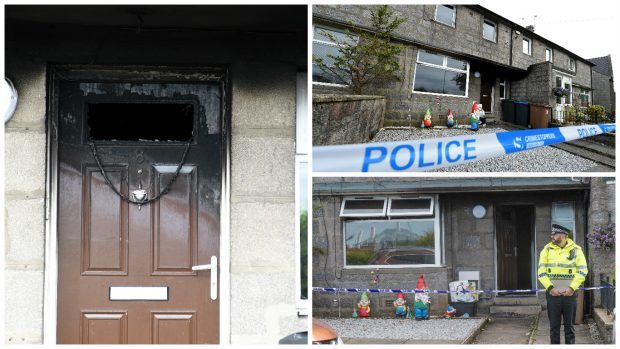 A mum and her young daughter are in intensive care after a horrific blaze tore through their home in Aberdeen.
The woman, named locally as Deborah Macdonald, raised the alarm after the fire broke out at her on Deevale Road, Kincorth Saturday morning.
Firefighters raced to the scene as staff in the control room talked Ms Macdonald – who was trapped upstairs – through how to protect herself and the three children from the smoke.
Police later confirmed the 39-year-old, and a five-year-old girl, had suffered "serious injuries" and were in intensive care.
A 12-year-old girl and another five-year-old girl also remain in Aberdeen Royal Infirmary.
Yesterday, fire investigation officers could be seen at the house, which was taped off by police.
Four fire engines were sent to battle the blaze when the call came in at about 9.30am.
Shocked residents were evacuated from their homes, and the road was closed, while the crews fought to get the fire under control.
Firefighters continued working to clear smoke from the property before leaving the scene about 10.30am.
There was extensive damage to the property with the inside completely blackened.
Maureen Beverley, who lives on the street and was evacuated, said she saw flames burst through the hall of the suburban property.
She saw one of the youngsters being carried out the property, and said: "I woke up and thought someone was having a barbecue but then I realised it would be too early in the morning for that and wondered what was happening.
"I went out and saw their hallway on fire with a bike burning in the landing.
"A policeman came round and evacuated me to the end of the street. It was really scary."
Another neighbour, who did not want to be named, said: "We were woken up by the sirens, I don't know them that well but it was young kids involved.
"It was absolutely horrible. You never expect something like that where you live."
Inspector Finn McPhail said: "We are currently treating the fire as unexplained and our investigation is at a very early stage. I would urge anyone with information that could help, or anyone who was in the area at the time and saw anything, to contact police on 101."