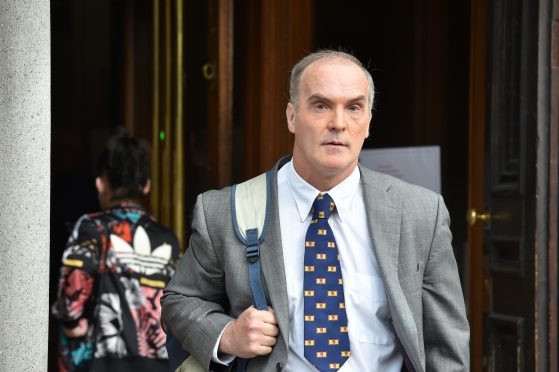 An Aberdeen man accused of threatening the Queen on social media sites has accused prosecutors of "offending science and humanity" after they seized his computer as evidence.
Alastair Peter Dow is alleged to have caused fear and alarm on July 25 and 26 2014 by posting offensive, abusive and threatening messages online about the monarch.
Prosecutors claim the 54-year-old acted in a threatening and abusive manner at his home, 21 Hollybank Place, Aberdeen.
Dow denies the charge against him.
Yesterday, he appeared at the city's sheriff court and asked for the Crown Office to return his personal computer, which was seized by police more than two years ago.
But fiscal depute Sophie Hanlon said the Crown Office had been told by police it would cost between £200-300 for the files on Mr Dow's computer to be copied and returned to him.
She also said that police were reluctant to copy the files because it would take them up to a week to do so.
But Mr Dow argued there could be evidence on his computer which may help in his defence.
He said: "I consider that the data on the computer is essential to my work.
"It's stressful enough being in the dock without this offence against science and humanity.
"There's years of my research that's in the hands of the police, it's my whole life's work essentially.
"The data itself has not been made available to me, I may wish to make comment on it to provide context to the Tweets."
Sheriff Morag McLaughlin said some of the files could be used by Dow in his defence and that to prevent him from accessing them may result in an unfair trial.
She called for another hearing later this month to give prosecutors the chance to go back the police and see if they can provide a copy of Mr Dow's computer files.
Dow is due to stand trial later this year.