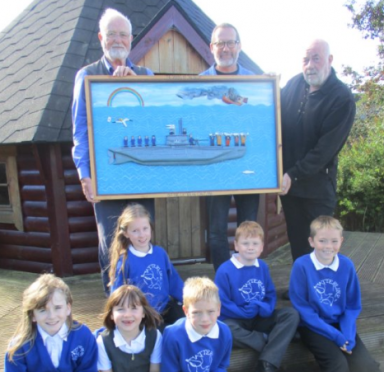 North-east schoolchildren are marking the centenary of a wartime kidnapping at sea by creating a special project about the incident.
As part of the centenary commemorations for a group of men from Aberdeenshire who were taken prisoner by a German U-boat, schools across Kincardineshire are taking part in a competition to depict the story of the fishermen's boat, the Bella.
Pupils from Gourdon, Catterline and Kinneff schools are working on art, music, poetry and village heritage in the 1900's as part of their Bella tribute.
The crew who were abducted were skipper James Ritchie, his son Jimmy, William Ritchie and James Freeman Ritchie and John Cargill and his son David.
A collage of the story has been loaned to the schools by Ian McIntosh of the Catterline Harbour Trust, to assist the youngsters with their own creative offerings.
The collage is the work of a Shetland artist, who came across the story of the Bella, through a tune about the vessel, written by singer-songwriter Dave Ramsay, and recorded on a fund-raising CD for the Catterline Harbour Trust.
Mr Ramsay, project director of Mearns Heritage Services, said: "The way in which head teachers, staff and pupils have responded to the Bella project is nothing less than magnificent.
"The enthusiasm and effort which pupils are putting into the programme is taking the commemorations to a new level, and contributing in a major way to the rich maritime heritage of Kincardineshire."
The six crewmen returned home safely at the end of the war in 1918, but only after spending time in a POW camp in Germany.
The commemoration on Sunday, September 25 will be signalled by six rockets from the pier at Gourdon, to salute the memory of the sailors who worked on Bella.
The work produced by the pupils will eventually be presented to the Maggie Law Maritime Museum, and form part of a public exhibition to highlight the centenary celebrations.
For full details on all the events being run, visit www.maggielaw.co.uk