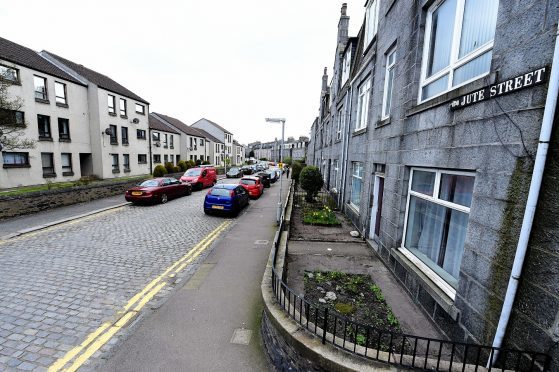 A man and woman have been seriously injured following a dog attack on an Aberdeen street.
Police were called to the scene on Jute Street at around 11.30pm on Tuesday night.
The couple, who both live on the street, were taken to Aberdeen Royal Infirmary and treated for bites.
The dog, a bull-mastiff, is understood to have died during the incident.
Sergeant Lynne Kortland said: "We received reports concerning an incident involving a dog on Tuesday night.
"The man and woman in question were taken to hospital for treatment of dog bites. No one else was involved in the incident and no further action will be taken."
A Scottish Ambulance Service spokesman said: "We received a call from Police Scotland to attend after reports of two people attacked by a dog.
"We took two adults to Aberdeen Royal Infirmary. Their injuries were sustained to their face, arm and leg.
"They are both in a stable condition. Their injuries are serious but not life-threatening."
Scottish SPCA Chief Superintendent Mike Flynn said: "We are sorry to hear of this incident which must have been extremely distressing for the people involved."