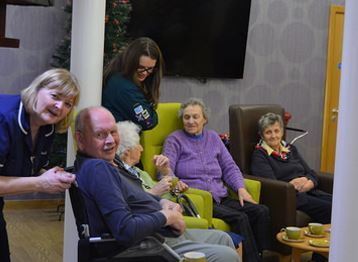 A Scout group has been taking part in a national project by engaging with older people in the community.
The 40-strong Inverurie Merlin troop are part of the "A Million Hands" initiative luanched by UK Chief Scout Bear Grylls.
It aims to deploy all the movement's 500,000 members in lasting social action in local communities.
The Inverurie youngsters decided to tackle the issue of dementia by visiting the Bennachie View Care home to chat to some of the residents and provide company.
Merlin troop leader Scott Adams said: "You may have seen some of the nationwide coverage with Bear Grylls.
"In short, young people voted for the issues they wanted to change and now the half a million Scout members are working on projects around the country tackling these issues.
"We chose to work on dementia, but the other issues picked were mental health, access to clean water and disabilities in society.
"Last year the Scouts made bird and bat boxes and bird tables for the residents of the care home involving the whole group and we think the residents will enjoy watching the wildlife making use of them. We will position them just outside in the garden so they will have a good view."
Mr Adams this time decided not to take the whole group to the session.
"Eight Scouts were chosen to go and sit down with some of the residents for a cup of tea and discuss Scouts back in their day and what we are up to today," he said.
"It was great to hear about when they had been in Scouts themselves, and they were surprised to see that we now have female Scouts."
All Scout troops are being encouraged to sign up for the Community impact campaign.
More details can be found at: www.amillionhands.org.uk