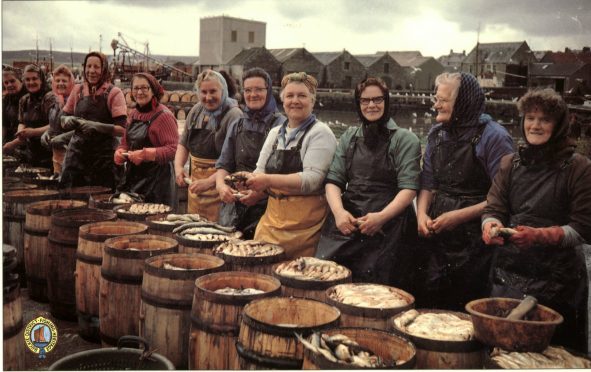 Caroline Hood gave up a career in law to try and make a "positive" difference in the north-east.
It took her back to school at the Robert Gordon University in Aberdeen, where this month she has been revealed as the first winner of the Peter Reid Prize for commitment to librarianship and information management.
Named after resident professor Peter Reid, Ms Hood scooped the gong as well as a job at RGU with her pioneering research on Buckie's fishing heritage.
She took control of the Buckie and District Fishing Heritage group and posted daily updates to monitor and track responses, helping both raise the group's profile and add to its collection of photographs and information.
She said: "I made use of the heritage centre's Facebook page to post a picture daily for a 30 day period, monitoring the levels of engagement and responses to the photographs.
"The research demonstrated that social media represents a new opportunity for engaging users and displaying historical content that can successfully be exploited by community heritage organisations.
"It also demonstrated the merit and value of photo elicitation techniques due to the quality and depth of information obtained and the levels of user engagement experienced."
Ms Hood had been a lawyer in the city before embarking on her masters at RGU.
And since her project, she has volunteered with Torry Heritage Group to catalogue its photographic archive.
"I was initially attracted to applying to volunteer for the project due to my family's own historical links with Torry and the personal connection I felt with the area as my grandfather had a grocers shop on Victoria Road," she said.
She has also worked with Prof Reid as his research assistant on evaluating the implementation by Scotland's local authorities of the Scottish Government's 'Every Child a Library Member' (ECALM) project.
They were tasked with conducting an independent evaluation of all ECALM projects and to identify key recommendations of good practice that would enable successful approaches to be rolled out more widely across Scotland.
RGU was commissioned on behalf of the Scottish Library and Information Council to conduct this review and presented their findings last month.
She described her award win as "a total surprise".
"To be awarded a prize for a research project I enjoyed so much has topped off what has been an amazing year," she added.
"Having taken the risk of changing career and wondering whether I could succeed, it feels like anything is possible now.
"Most importantly, I'm looking forward to going back to the heritage centre in Buckie to thank them – it wouldn't have been possible without their enthusiastic support and overwhelming generosity."
Prof Reid, who specialises in librarianship and information management, added: "She worked incredibly hard on it and won many admirers at the Buckie Fishing Heritage Society for her work and the amazing way that built a warm relationship with all the members.
"Her results tell us important things about social media and local heritage and definitely deserve to be published widely".
From next month, Ms hood will be working at RGU's Scott Sutherland School of Architecture as a research assistant on the EU-funded CIVITAS PORTIS project.
The project, led by the City of Antwerp, will have researchers and organisations from across Europe look to tackle the unique transport challenges facing five European port cities and prove the benefits that more efficient and sustainable mobility can bring.