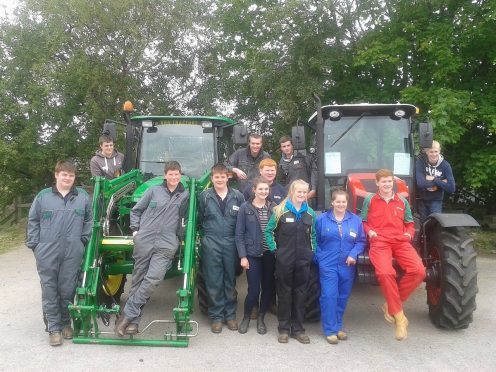 Scotland's largest machinery ring is hoping to gain professional accreditation for its internship programme.
Ringlink, which has just over 2,800 members, has been running an internship programme for the past four years.
The ring's training manager, Peter Wood, said the scheme was launched to help introduce young people to agriculture by giving them some practical training followed by a placement on a farm or at a rural business.
Speaking at a meeting of the regional agricultural advisory group Nesaag, which comprises councillors from Aberdeenshire, Aberdeen City, Angus and Moray, Mr Wood said lack of information about career choices in agriculture and the costs involved in training and hiring young people were key barriers to entry in the industry.
He said Ringlink's intern scheme was now being delivered in partnership with SRUC and interns were being given their initial three-week induction course at the college's Craibstone campus in Aberdeen.
In addition funding from the Leader programme has enabled Ringlink to employ a project manager to manage the intern scheme – Gail Robertson.
The next step, said Mr Wood, was to gain professional accreditation for the scheme and make it available for use by other organisations and companies.
"To some extent it wouldn't be a success unless other organisations can pick it off the shelf and deliver what we are delivering," said Mr Wood.
"It's going to take a bit more time but hopefully in another 12 months' time we will have that as a qualification and it will be operational."
He said Ringlink was working with SRUC to develop the scheme into a nationally recognised programme and it was hoped a pre-modern apprenticeship in agriculture would be developed next year.
The current agricultural pay rates made it unsustainable to take on young and inexperienced people and the major cost of the scheme was subsidising the pay of youngsters, added Mr Wood.
"We have to go down this route of developing the programme into a recognised programme. That will give us access to educational funding," said Mr Wood.