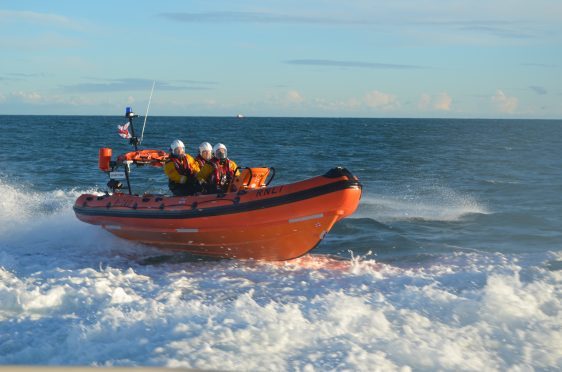 They're a stalwart group of volunteers who have raised thousands of pounds for their local lifeboat station and now they are toasting a landmark anniversary.
The RNLI Stonehaven Fundraising Branch – which was formerly Stonehaven Ladies' Lifeboat Guild – will be 60 years old this year, so they are planning a party – and they have got plenty to celebrate.
One of their number, Karen Smith, was recently awarded a British Empire Medal for her fundraising efforts, spanning 34 years of membership and helping towards the £350,000 of total funds accrued.
The branch was launched after a meeting in the Upper Town Hall on January 14, 1957, which 19 ladies attended. The provost was in the chair and the Ladies Guild was formed.
Mrs Vi McDonald was duly appointed president, a post she held until 1983 when she was given the title of Honorary President in which capacity she remained until her death in 2003.
During their 60-year history, there have been only six presidents: the others were Margaret Thomson, Karen Smith, Margaret Curnow, the late Alena Bathie and the present incumbent, Roberta Duncan.
And Mrs Duncan said: "There have been many members over the years, some who served loyally for a very long time. We want to celebrate all our great achievements."
The Scottish Lifeboat Council acknowledged the hard work of the Guild in 1975 when they presented a certificate of thanks, which was signed by the then Convener, the late Duke of Atholl, and several members of the branch have subsequently been awarded badges and certificates for their efforts.
Over the years, the population of Stonehaven and the surrounding area have been very generous to the lifeboat station with an amazing tally of £350,000 being accumulated.
So, to celebrate this great achievement, they are holding a party in the Station Hotel, Stonehaven on Friday, January 20 and are hoping that local supporters and friends will attend.
Karen Smith BEM, who works for the local RNLI fundraising branch, said she was "overwhelmed" by the award which acknowledged her significant contribution to charity.
The modest 72-year-old said yesterday: "I feel very proud, not just for myself, but for all the people who are supported by the lifeboats."
A lifelong RNLI fundraiser, Mrs Smith has held a variety of voluntary roles, including president, vice chairman, secretary, committee member and box secretary over the course of the last 34 years.
After recently taking on the safety cover for the Nippy Dip on New Year's Day as well as the Hogmanay Fireballs, Lifeboat operations manager Drew Lawson added: "I would like to thank everyone for all their hard work and support in 2016.
"A great amount of cash was raised on New Year's Day and it was tremendous for us being part of the community – where we should be."
Tickets for the birthday bash are priced at £15.00 and are available from Roberta Duncan (tel: 01569 763500) or Karen Smith (tel: 01569 763380).