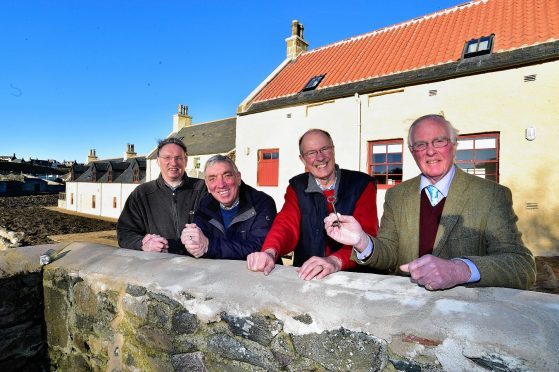 A former sail-making loft has been handed over to the community in an effort to boost the Banffshire coast.
Portoy's Sail Loft has been completely refurbished as part of a two-year project to draw more tourists to the area.
Located at Back Green and dating from the 18th century, the Georgian house has been transformed into a 25-bedroom bunkhouse in a partnership between the North East Scotland Preservation Trust (NESPT) and Portsoy Community Enterprise (PCE).
And yesterday, the enterprise officially took control of the building with a view of opening it to tourists next month.
Marcus Humphrey, chairman of NESPT, said: "We acquired these wonderful, iconic buildings in 2006 and have been working tirelessly ever since to find a way of preserving them for future generations.
"Our partnership with Portsoy Community Enterprise has enabled us to redevelop the buildings as bunkhouse accommodation for visitors and I am most grateful for their unerring help and support over the years and for the fact that they are today taking on the buildings as operators of the Sail Loft."
It is hoped that the new venue will attract additional tourism business to Portsoy, while highlighting the traditional music and boat-building courses available within the village itself.
It will also offer much-needed accommodation during the annual Portsoy Boat Festival, which draws thousands of people from across the world to the north-east.
The project to renovate the Sail Loft cost £2million and was funded by the Heritage Lottery Fund, Coastal Communities Fund, Historic Environment Scotland, and the Architectural Heritage Fund.
Roger Goodyear, co-chairman of Portsoy Community Enterprise, said: "We're very excited about this major addition to Portsoy's beautiful town.
"With its idyllic location steeped in history, yet with the comfort of modern facilities and the promise of a hearty welcome from our team, we're confident that it will add significantly to the appeal of this wonderful part of the Banffshire Coast".