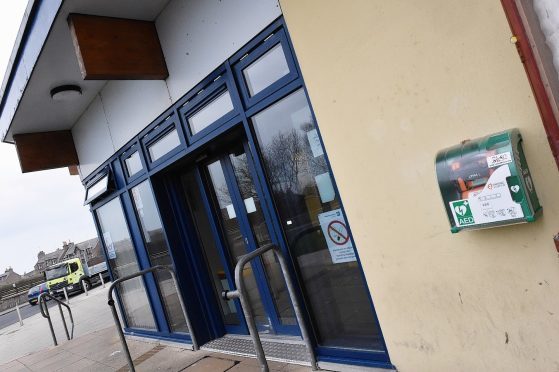 A north-east town has unveiled its first public access defibrillator after a fundraising drive.
The life-saving machine was installed this week at Peterhead's Community Centre after a campaign by the port's running club and donations from local families.
They managed to drum up the £4,500 needed to make the kit available. It is now available for use by any member of the public in an emergency situation.
Stephen Bruce of Peterhead JogScotland said: "Communities throughout the north-east have all got defibrillators and they are so vital for saving lives.
"So it's great Peterhead has one, too. We hope to add more in the future."
Training sessions for members of the public to learn how to use the equipment have already been held at Peterhead Fire Station and the local football club, but community warden Ian Kennedy said more can be arranged if there is sufficient demand.
The defibrillator has been designed to be easy to use. And once it is in place, it will detect the heart's rhythm and will not deliver a shock unless one is needed.
There is now hope that it can be used to save lives if it is ever required.
The importance of the machines game to the fore in 2015, when a football fan collapsed outside Peterhead FC's ground.
The quick thinking of the club's general manager, Nat Porter, and visiting physiotherapist, Kenny Murray, in grabbing the club's own defibrillator helped save the supporter's life.
The St Andrew's First Aid charity confirmed that, for every minute that passes after a cardiac arrest, the chance of survival decreases by around 10%.
A spokesman added: "Certainly, we're seeing a number of instances of people whose life has been saved by having access to a defibrillator."