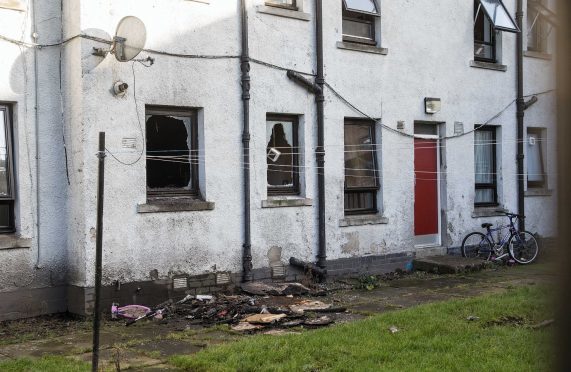 Hero workmen scaled ladders to rescue two women and a hamster after an explosion sparked a fierce blaze in a block of flats.
The fire broke out at Froghall Gardens in Aberdeen at around 10.30am yesterday after it is believed a boiler burst into flames.
It is understood maintenance had been carried out on the boiler just three days previously.
Around 30 workers, who were installing insulation at a nearby property, spotted smoke billowing out of the flats and rushed to assist the women, who were leaning out of the windows to shout for help and breathe clean air.
Thanks to the efforts of the have-a-go heroes, the two women – one of whom was clutching her pet hamster in an exercise ball – were safely evacuated from the burning building just before the fire brigade arrived to rescue other residents who were out of reach.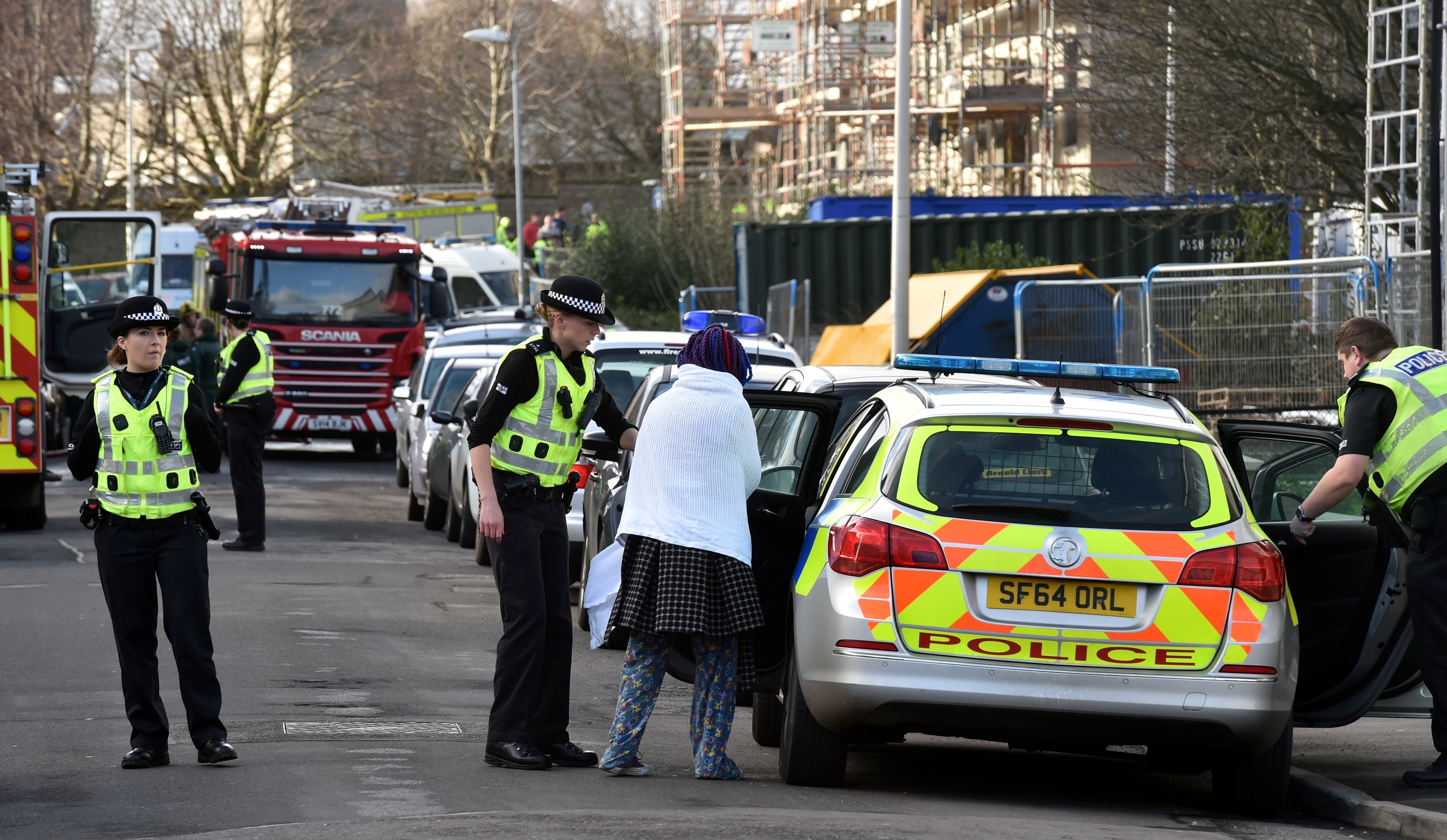 Megan Wallace-Baldwin, a 19-year-old from Keith who is studying law at Aberdeen University, was one of the women rescued by the courageous workmen.
She said: "I suddenly realised there was a fire in the kitchen.
"And when I saw the stairs weren't an option because of all the smoke, I thought the only way to escape would be out the window.
"I was looking down and thinking that I really didn't want to make that jump, and that's when I saw the workmen running over to help with their ladder.
"One of the guys came up and helped me down, and took us into their cabin and gave us water, and jackets to keep warm.
"It was a terrifying experience – I was in the flat on my own, so it was a bit of a panic.
"They rescued another girl, another student who is a bit older than me, she came down the ladder with her hamster.
"I really want to express my gratitude to these guys.
"I am so thankful, they saved my life. If they hadn't been there, who knows what would have happened?"
The blaze was brought under control by around 11am, but the emergency services cordoned off Froghall Terrace, Jute Street and Elmbank Avenue because of fears of a gas leak.
Residents in the area were evacuated, and many spent yesterday evening accommodated at Froghall Community Centre.
Up to 81 homes in the area were left without power after the incident.
Barrie Mathieson, 28, was one of the workmen who rushed to rescue the women. He said: "We heard screaming, and calls of help, help, and we saw a lassie leaning out of one of the windows.
"We ran across the road and got the ladders out and helped her down, and then we saw other people leaning out the windows.
"We helped who we could until the fire brigade arrived. We were all sent home afterwards because there was a smell of gas in the area.
"The electricity was off, and the electric box inside the flats had been on fire.
"If we weren't working in the area, they might not have made it out. I'm just glad they're safe."
A spokeswoman for Aberdeen City Council said: "We were alerted to the incident at Froghall and have been liaising closely with the emergency services, who led the response.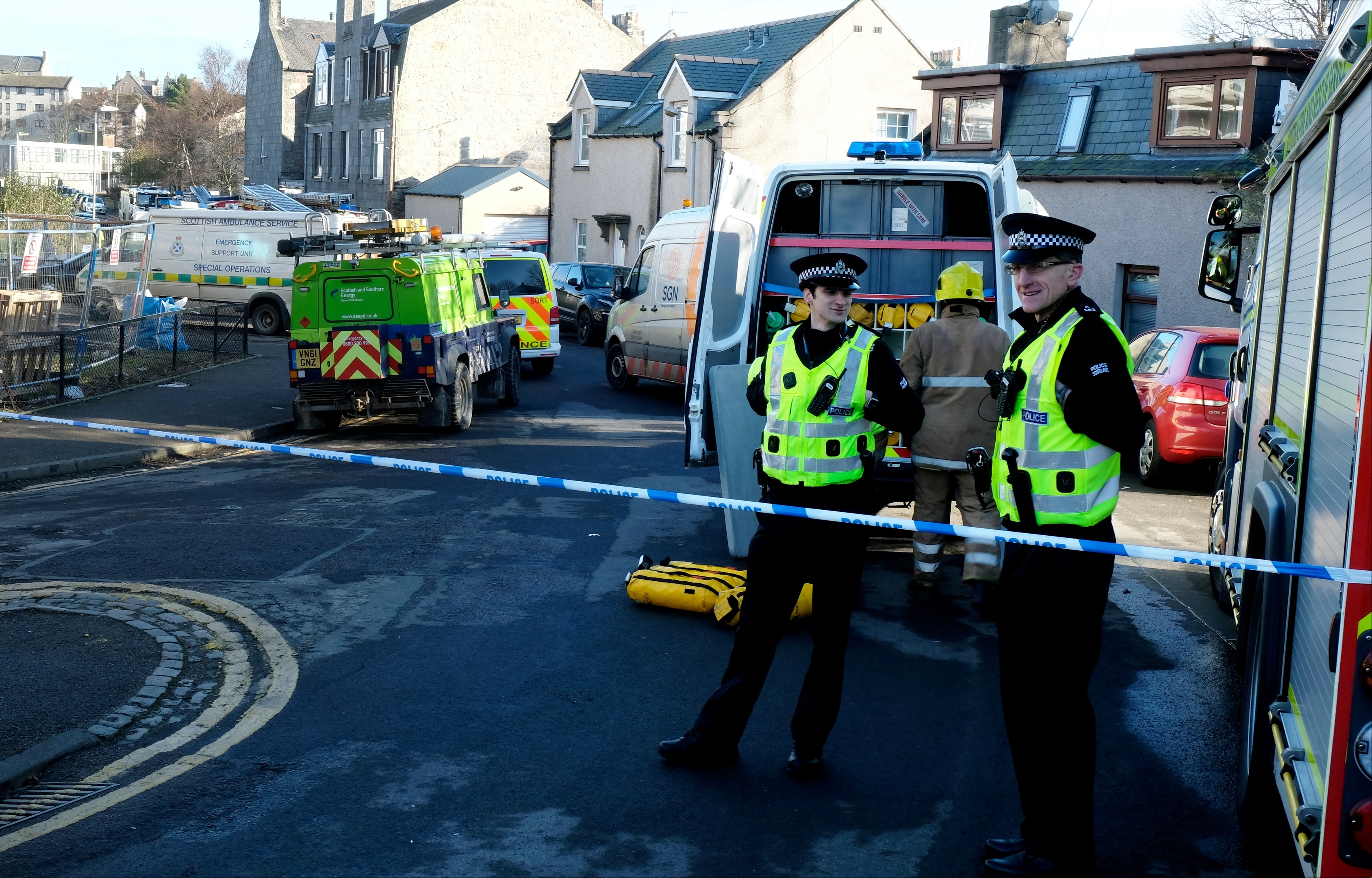 "Aberdeen City Council mobilised a team to Froghall Community Centre, where those who have been evacuated are being accommodated and next steps assessed.
"Our priority is the welfare of all affected by the incident. We will support any residents unable to return to their homes this evening to ensure they have alternative accommodation."
A fire service spokesman added: "We were alerted to reports of a fire within a property at Froghall Gardens in Aberdeen.
"Six appliances attended and five firefighters, dressed in protective breathing apparatus, extinguished the fire using a high-power hose.
"An investigation has been launched into the cause of the fire."