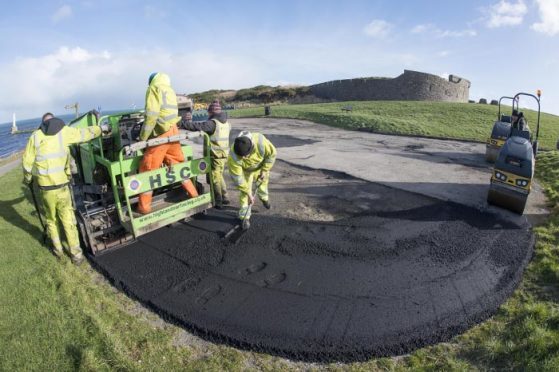 Extensive repairs to potholes at an Aberdeen beauty spot have started a month early due to a mild winter.
The road works are part of an ongoing project at the historic Torry Battery, which will include installing information boards, seating, and new crossings.
The viewpoint is a popular site for spotting dolphins playing in the waves at Aberdeen harbour thanks to the RSPB's annual Dolphinwatch programme.
The site was first built in 1861 to defend the city and harbour of Aberdeen. It superseded a number of older structures which were created in the 1490s as a response to a perceived threat by sea-borne attack from English forces.
It was brought back into action in the two World Wars and, in 1941, its machine guns were used to defend against German attacks.
Aberdeen City Council's finance convener, Willie Young, said: "Torry Battery is an iconic monument on the city's skyline, part of our important heritage and story of the city.
"It is fantastic the work has started to repair the car park as part of the £193,050 agreed at committee. It's being carried out before the start of the successful Dolphinwatch – the opportunity to spot dolphins and other marine life so near to the city centre is something quite unique to the UK, if not Europe.
"We look forward to Torry Battery welcoming more residents and visitors from around the world this year."