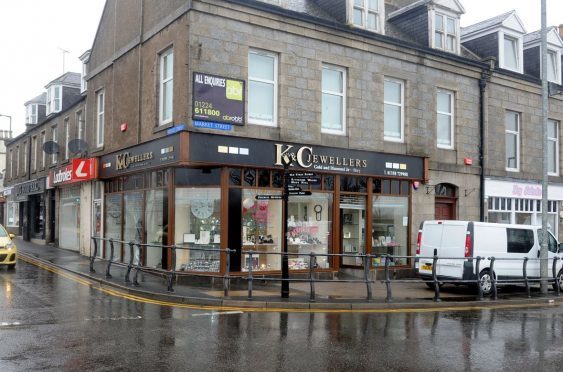 A jeweller who had more than £1,000 worth of watches stolen following a break-in has pledged to buy CCTV cameras to help protect town traders.
Thieves also caused about £4,000 worth of damage when they targeted K & C Jewellers on Market Street, in Ellon, Aberdeenshire, close to the roundabout, in the early hours of Saturday.
It is believed the culprits may have used a heavy implement, such as a sledgehammer, to smash the family-owned shop's front window.
Now owner, Kevin Grant, has revealed he has had to take action to protect his business and others because the council have failed to install security cameras.
He said: "I'm going to get some [cameras] put out on the street because the council is not pulling its weight.
"I just got someone in to give me a quote, I am probably going to pay for four – two watching Bridge Street and two watching Market Street."
Last night, Aberdeenshire Council co-leader, and Ellon councillor, Richard Thomson, argued the issue with cameras was not the cost of the devices, but who would be responsible for monitoring them.
He added: "It's a very generous offer which I'm sure the council would want to sit down and discuss with him, but the problem with any CCTV system is not about the cameras themselves but about who goes on to monitor them and in what way."
Meanwhile, police have been carrying out door-to-door inquiries in the area and reviewing the shop's CCTV to try and trace the culprits.
Inspector Graeme Penny said: "Extensive work is ongoing in relation to this investigation, including reviewing CCTV and house-to-house enquiries.
"We are following several lines of inquiry and I can provide every assurance that local officers, working alongside a team from CID, are using every resource available to identify the person or persons responsible.
"Crimes of this nature are extremely rare in this particular community and local residents and regular visitors will have been extremely disappointed to hear that a local business has been targeted in such a disgraceful manner."
Anyone with any information should contact police on 101, or Crimestoppers on 0800 555 111.
K&;C Jewellers in Ellon.