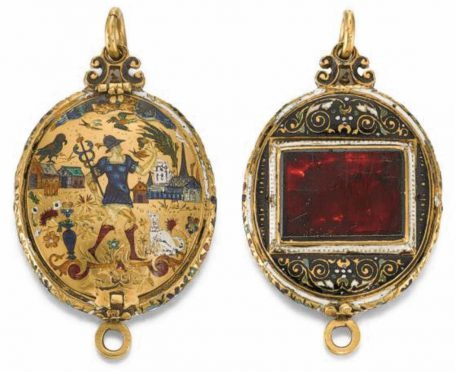 It would be a "great loss" to Scotland if treasures from a north-east estate are allowed to leave the country, an MP has said.
A stunning jewel will be among the prized lots later this month when Sotheby's auction off some of the assets of a great Scottish family.
Some 400 items are up for sale from Fettercairn House – home to the Forbeses of Pitsligo for generations.
However the sale has drawn concern from Banff and Buchan MP Eilidh Whiteford, who said the items up for auction formed a "significant" part of the region's history.
She spoke out after constituents expressed concern about "what could happen to these items of real historical value".
Mrs Whiteford added: "As the specialist at Sotheby's said, many of these items are a significant part of the history of Scotland.
"It truly would be a great loss if these items were lost to the nation."
More than £1million is expected to be generated by the sale of the items.
Among them is the Fettercairn Jewel, described as an "extraordinary treasure" when it was discovered in the home's library.
The gold and enamel locket pendant dates from the late 16th century and is expected to fetch £30,000-£50,000.
It features a faceted jacinth stone which was thought to protect the wearer from lightning and the plague.
The March 28 sale also includes lots from Monteviot House, in Jedburgh, which homes the Marquesses of Lothian.
The collection ranges from Roman rings to pieces by Cartier.
David Macdonald, Sotheby's specialist in charge of the Fettercairn sale, said: "In some respects, this is the story of Scotland over the last 250 years.
"From Jacobite swords and sporrans, and late 18th-century decorative pieces, to Grand Tour souvenirs – all these treasures found their way to Fettercairn House.
"The lives and loves of the Forbes family, their academic interests and passions were reflected in the objects."