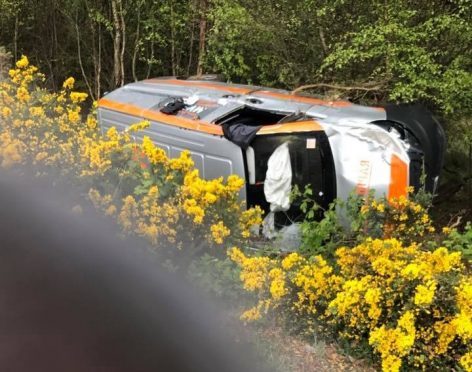 A van driver had a lucky escape yesterday after he fell unconscious at the wheel and crashed into a ditch on the A90 Dundee to Aberdeen road near Marykirk.
Another driver, who was behind the vehicle, saw the accident occur and pulled over to offer his assistance.
Good samaritan, Jonny Burke, was also travelling on the northbound carriageway to Aberdeen when he saw the van leave the road.
He halted his vehicle to offer help and subsequently carried out first-aid on the driver, who told him he had fallen "unconscious at the wheel".
Mr Burke added: "I stopped the bleeding on his head and got him sat up on the grass – it could have been worse."
He posted online about his "good deed" and said: "It's amazing how many people just slow down for a nosey and don't bother helping.
"I got him sat up on the grass and he looked at the state of his van and he said to me: 'Aw naw, ma tobacco will be everywhere'.
"He is in safe hands now, but had a bad gash on his head."
Paramedics arrived at the scene and treated the man, who is in his 40s, and transferred him to hospital.
A Scottish Ambulance Service spokesperson said: "We received a call from the Scottish Fire and Rescue Service at 08.38 hours today to attend a road traffic collision on the A90.
"We sent one ambulance to the scene.
"One male patient in his 40s was taken to Aberdeen Royal Infirmary."
Police also attended the incident and a spokeswoman confirmed later there had been one "walking wounded" male casualty.
She said: "We were called to an accident this morning involving one vehicle which had gone completely off the road, at around 8.30am. There was one casualty described as walking wounded."
The identity of the van driver is not known.