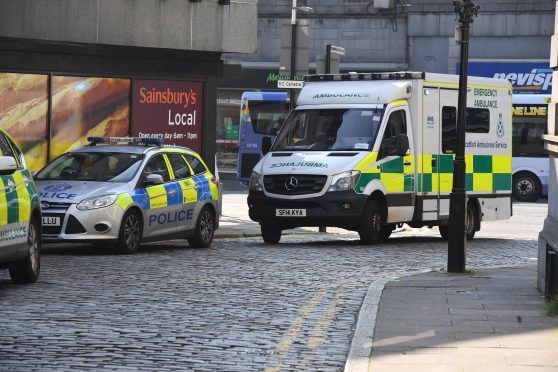 Police launched an investigation yesterday after a woman was found unconscious in the hallway at a block of flats in the city centre.
Officers were called to a block of flats on Huntly Street, near the junction with Union Street, at around 6.45am.
The area was cordoned off while police carried out their investigation and a forensic crew was also at the scene gathering evidence.
Residents in the building – which contains more than 20 people – were locked out of the flats while the investigations were ongoing.
They were told they would have to leave the property shortly after the incident and were not informed when they would be allowed back into the building.
It was unclear what time the woman fell, although an eyewitness suggested she may have been in the hallway for a while before she was found.
The resident -who did not wish to be named – found the woman and phoned the ambulance service.
He said she was "unresponsive on the stairs."
He added there was "some blood on the floor by her feet and blood coming out her nose.
"The blood was dried, so she had obviously been there more than five minutes."
Another resident claimed the building was "notorious for things like this."
A Scottish Ambulance Service spokesperson said: "We received a call at 0640 hours today to attend an address on Union Street.
"We dispatched one ambulance and a paramedic response unit to the scene. One female patient in her fifties was taken to the Aberdeen Royal Infirmary."
It is understood the woman was still in hospital last night, and the investigation was ongoing.
A police spokeswoman said: "We were called to the Huntly Street and Union Street area at 6.45am following reports of concern for an injured female.
"An ambulance was called to the scene and she was taken to Aberdeen Royal Infirmary with serious injuries."
In an unrelated incident, an ambulance was sent to Huntly Street following a collision yesterday morning.
A Scottish Ambulance Service spokesperson said: "We received a call at 0818 hours today to attend a road traffic collision on Huntly Street in Aberdeen.
"We dispatched one ambulance to the incident. One female patient in her fifties was treated at the scene."