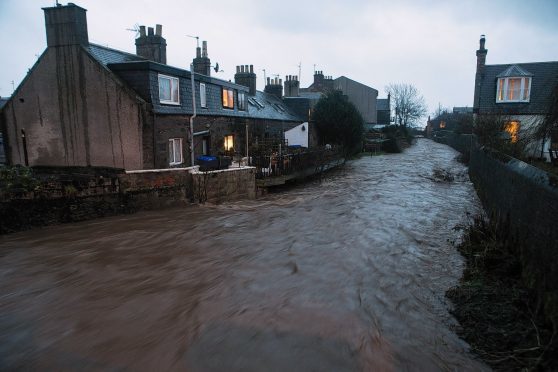 A scheme to protect a seaside town from flooding has been endorsed by Aberdeenshire Council, shortly after it was approved by the Scottish Government.
The Stonehaven Flood Protection Scheme was drawn up to ensure the town does not fall victim to another destructive deluge in the future.
Homes in the area were devastated in 2009 and 2012 when the River Carron burst its banks and devastated the area, and local people have called for protective measures ever since.
The scheme is designed to reduce flood risks for 372 homes, two public utility sites and a school and an emergency services facility.
The £16.5million project would bring new culverts, 6.5ft-high glass-topped flood walls and a new embankment along the watercourse.
The river's Red Bridge could be replaced, the Green Bridge moved, the White Bridge elevated and the Beach Bridge strengthened.
After a public hearing on March 28, when five objections were raised to the plans, the scheme was revised and met with a positive reception when presented at the council's infrastructure services committee.
Councillors convened at Woodhill House yesterday to debate the proposals, and unanimously agreed to put the plan into action.
The committee, which met for the first time since last month's local government election, could alternatively have voted to reject the scheme or make changes.
In her report to the committee, principal engineer, Rachel Kennedy, said: "The current estimate for the capital works is in the region of £16.5million.
"However, as the detailed design progresses, the capital estimate figure will continue to be refined."
The scheme will now be advertised locally for six weeks during which time objectors will have a final chance to comment.
After that six-week window, the scheme will be "operational".
Construction of the flood defences is expected to commence in mid-to-late 2018.