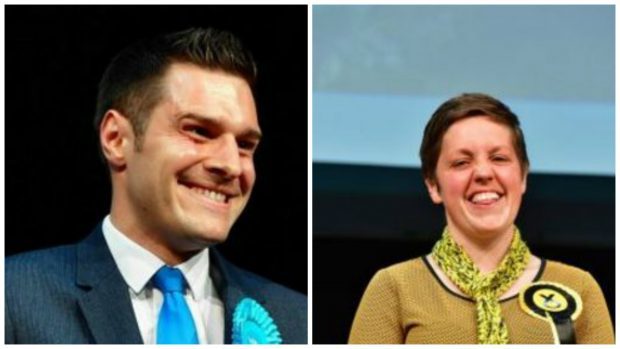 Aberdeen's MPs already locked horns just a day after being elected – with the new Conservative for the south of the city saying the SNP "don't get the north-east".
Ross Thomson defeated the nationalist high-flyer Callum McCaig by 18,746 votes to 13,994 and was one of six Tory MPs elected in the region with Aberdeenshire West, Gordon, Angus, Banff and Buchan and Moray all turning blue.
Mr Thomson dismissed suggestions that the Conservative surge was simply a vote against independence, saying that the "central belt focus" of the SNP had led to their downfall.
But Aberdeen North's Kirsty Blackman, who held off a push from Labour to hold on to the seat with a reduced majority, said the Scottish Government had invested heavily in the region.
Mr Thomson, who is expected to stand down as a north-east list MSP, said: "There is no doubt that opposition to a second referendum was a key issue for voters in this area – and for many who switched to vote Conservative, perhaps for the first time.
"But there is more to it than that. Aberdeen has not been treated well by the SNP in recent years.
"Our council is the lowest funded in Scotland, our health board is being short-changed and police and fire control rooms have been relocated to the central belt.
"Despite all of that, the SNP government has still milked this part of the world with its high tax agenda.
"I think the SNP have under-estimated the impact of the business rates issue in particular. At a time when our economy has struggled due to the downturn in oil and gas, the last thing we needed was an additional burden on our local economy.
"The SNP just don't get the north-east or the problems we face, we have gone through a really dramatic downturn in the oil and gas, one of the worst in generations, and Holyrood haven't helped us."
Ms Blackman, who is beginning her second term in office, said that many of the north-east seats had traditionally been Tory and pointed to Scottish Government investment in infrastructure projects like the AWPR.
She said: "I'm really pleased to retain my seat, it's a real honour to represent the people of Aberdeen North.
"Clearly there were Tory seats in the north-east in the past so I'm not sure the surge has happened like they thought.
"I don't think for a second that this has anything to do with a lack of investment in the north-east, the SNP Scottish Government has invested a lot in the region.
"My priorities now are what they've always been.
"It's really important that we continue to help as many people as possible who are really struggling.
"We also need strong voices to stand up for the oil and gas sector and make sure the problems are known."