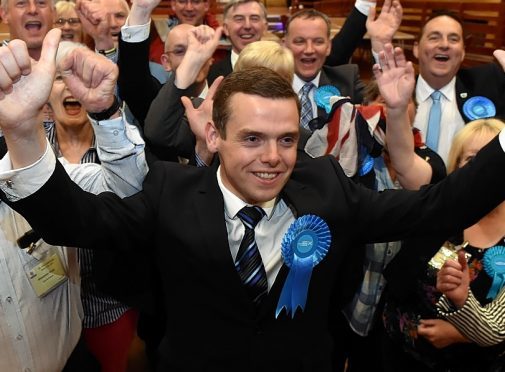 Moray's new MP declared the campaign for Scottish independence was dead after sweeping to a shock win.
Douglas Ross claimed the Conservatives' first general election victory in the region since 1983 as he deposed the SNP's deputy leader.
Despite entering the campaign with a majority of more than 9,000 from two years ago, Angus Robertson's team insisted they fought the contest as if it was "marginal".
However, Mr Ross eased to a winning margin of more than 4,000 to oust the SNP titan, who had held the heartland seat since 2001.
Following the result the newly-elected MP insisted the calls for Scottish independence should now be silenced.
He said: "This result shows how far we have come. Nobody predicted we could have taken this seat from the SNP, that's down to the incredible leadership of Ruth Davidson.
"This result sends the strongest possible message to the SNP to give up on the obsession of independence and concentrate on running the Scottish Government.
"We started this campaign 9,000 votes behind. The national media didn't think we could do it but this proves we can win in SNP heartlands."
Mr Ross spent his first day as an elected MP by celebrating with his wife at a Robbie Williams concert in Edinburgh last night.
It was fifth time lucky for the Conservative who previously lost general elections to Mr Robertson in 2010 and 2015.
The 34-year-old also lost Holyrood contests to Richard Lochhead in 2011 and 2016.
Remarkably the victory came despite the candidate's name not appearing on some ballot papers in Forres – it is understood four votes were affected.
Mr Robertson remained deep in conversation with the SNP group while the votes were counted.
The former MP left the stage immediately following the declaration before making a brief speech in Elgin Town Hall and swiftly left without answering any questions.
The SNP deputy leader explained it had been an honour to have represented "the finest part of Scotland".
He added: "You win some and you lose some. The SNP will bounce back."