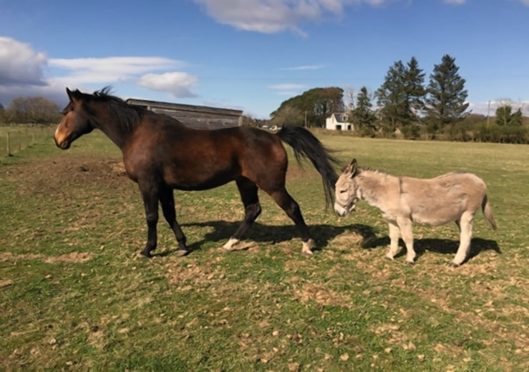 A horse and donkey who became best friends while living together at an animal rescue shelter have found a new home for life at an Aberdeenshire farm.
Warmblood crossbred Tully and Eric the donkey became inseparable at the Scottish SPCA's centre in Drumoak after their previous owner had to give them up.
And now, the pair have found their own happy ending at West Stoneyhill Farm, near Stonehaven, with new owners Diana and Kevin Lawson.
Mrs Lawson – who read a story in the Press and Journal appealing for a new owner who could take on both animals – realised the task of rehoming them together could prove difficult.
She said: "I know a lot of people who would have taken a horse and a lot of people who would have taken a donkey, but getting someone to take on both was another matter.
"We have got other horses and livestock, so we knew it was important they fitted in.
"We decided to go and have a look and see if they were easy-osy.
"We went out and saw them and they were absolutely fantastic.
"They've now been here for just over two weeks and they have settled in really well.
"They get on really well with all the other horses and animals.
"The pair of them are really lovely.
"They have got a home for life here."
Graeme Innes, manager of the Drumoak animal centre, said the pair would have been to be split up.
He added: "It is an odd pairing, but they would have been heartbroken if we split them up."
It is not the first time Mrs Lawson has been party to an unusual animal friendship.
Back in 2005, a chicken and a duck paired up in one of her barns – taking turns to warm up each other's eggs.