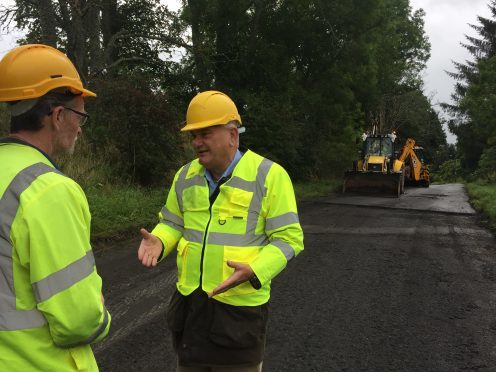 Transport Scotland has apologised to residents in two north-east villages after letters were issued, incorrectly telling them about an imminent road closure.
Contractors Aberdeen Roads Limited sent 8,000 letters to people in Dyce and Newmachar, informing them the A947 Dyce to Newmachar road would be closed this weekend.
But, in a turnaround last night, transport chiefs apologised for any confusion and confirmed the road would not be closing and a new letter will be issued with "updated" information.
MSP for the north-east, Mike Rumbles, had not heard of letters of such volume being sent out to individual properties before, but urged everybody involved to "get this right".
He added: "It has been absolutely the right thing to do to communicate to residents, but people need to know if there is going to be extensive disruption – it all seems very confusing."
A Transport Scotland spokesman tried to clarify the situation last night and said: "The closure of the A947, as communicated in literature to local residents from the contractor, Aberdeen Roads Limited, was incorrect.
"As stated on Transport Scotland's website, there is no planned traffic management of this section of the A947 for week commencing September 23.
"We would like to apologise on behalf of the contractor which plans to issue an updated letter to residents."
Almost 8,000 letters arrived through letterboxes in Dyce and Newmachar on Wednesday, giving details of a closure planned from 8pm on Friday, September 22 until 6am on Monday, September 25.
The letter stated a section of the A947 from the Don Bridge in Dyce to the Parkhill-Goval junction at Govals farm, would be closed.
And it added: "It will be necessary to close the A947 over two weekends to allow the tie-in of the new and existing roads."
It is not clear when these works will now take place, but it is understood the next letter will give the updated timings.
Further details of road closures for the AWPR can be found at www.transport.gov.scot/traffic-management-updates/