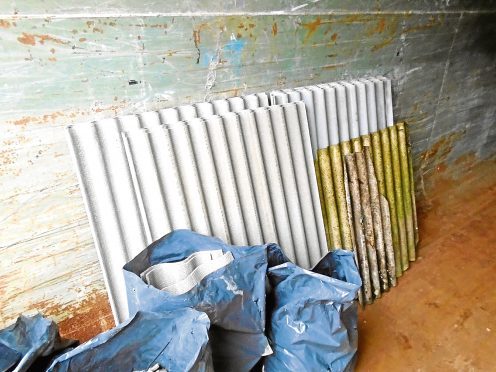 The Health and Safety Executive has launched an investigation after workers were exposed to asbestos at an Aberdeen council depot.
Open bags of roofing material covered in asbestos were found by workers beginning their morning shifts at the council's Kincorth facility last month.
But mystery remains over who had accessed the site, which is locked at night, to dump the bags.
Union bosses expressed doubt over the local authority's own ability to investigate the incident, as it is thought only someone with keys could access the depot. They reported it to the Health and Safety Executive (HSE), which has now launched a probe.
When the city council removes asbestos from a property there is usually a paper-trail to indicate where it came from and how it will be disposed.
Unite union representative Tommy Campbell said: "Unite welcome that there will be an investigation by the HSE, it is however disappointing that we have had to take the action of reporting it."
A spokesman for HSE said: "HSE is investigating asbestos concerns raised at Aberdeen's City Council's Kincorth depot. Our inquiries are ongoing."
An Aberdeen City Council spokeswoman said: "The health and safety of our staff is a priority for us and so we have liaised with HSE about the matter, and are working with their officers in their investigation."