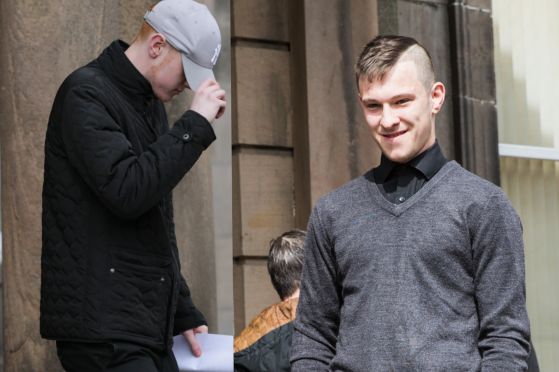 Two men who blitzed a family's pet lizard in a food blender have been locked up.
Daniel Innes wrecked a house in Aberchirder during a drink-fuelled rampage last year before he and pal Jordan McIsaac killed two geckos.
One of the animals was dropped on the floor, where it died, and the other was blitzed in a blender.
The pair were finally sentenced for the crimes – which sparked public outrage – at Banff Sheriff Court yesterday.
Sheriff Philip Mann had previously deferred sentence on the pair to give them a chance to show they were sorry, and suggested they spend time volunteering with animal charities.
But with no organisation willing to take the pair on, they returned to court and Sheriff Mann remanded them after ruling they had failing to show enough remorse.
And yesterday, after receiving social work reports, the sheriff ordered Innes, 20, and McIsaac, 18, to spend nine months in detention.
He also banned them from keeping animals for 10 years.
Last night, pet owner Amanda Bibby welcomed the sentence – but said it should have been a lifetime ban.
During an earlier calling of the case, Sheriff Mann described the crime as "chillingly evil" and one of the most difficult he had ever dealth with in his career.
However, he acknowledged the friends had suffered as a result of the media attention surrounding the case – with both claiming they have been assaulted.
He told them: "You're still young men, you'll still be able to make a proper and productive life for yourself.
"I hope you'll use the period in custody to good effect.
"I think you'll find there are opportunities there."
McIsaac, of Temple View in Banff, was also sentenced to two months detention for his part in a violent assault last year.
His solicitor Leonard Burkinshaw had urged Sheriff Mann to be lenient in his sentence, and told the court the teen had sold his Xbox and weights bench to provide his mum with money to make donations of £50 to the Scottish SPCA and £80 to the Cats Protection charity
He had also applied to start college and had dreams of becoming a fisherman.
Mr Burkinshaw added: "He deeply regrets being involved in this and the trauma that has been caused.
"He is entirely remorseful for his behaviour that night and he is trying to get things back on track.
"Certainly, he has learned his lesson."
Solicitor Margaret Nash yesterday revealed her client Innes, of Brands Butt in Inverurie, had written a letter of apology to gecko owner Amanda Bibby but said she had not passed it on because "things are a bit raw".
Last night, Ms Bibby said she was surprised the pair had been locked up, but welcomed the decision.
"Hopefully it will set a precedent for other animal cases," she added.
"I think you should be banned from keeping animals for life if you can kill.
"But it's a lot more than what I thought they would get.
"I hope it's a lesson learned for them."
Liam Kerr, Scottish Conservative justice spokesman, said: "These thugs appear to have shown no remorse whatsoever for their actions and I think most people would agree this crime justifies a custodial sentence.
"It beggars belief that anyone would consider that this was acceptable behaviour. The fact that this stomach-churning offence was filmed using the teenage son's own mobile phone makes it even worse.
"This pair will at least now have some time to think about their actions, and the awful impact that this horrible stunt will have had on the family involved."