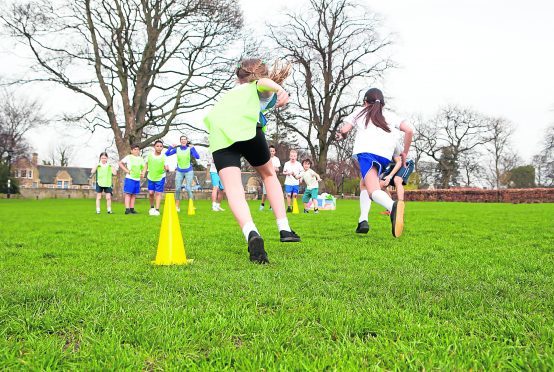 Nearly three children a week are being injured during PE lessons in Aberdeen schools.
City primary and secondary school teachers logged a total of 347 health and safety reports over the last three academic years.
Of these, 42 pupils were taken to hospital for treatment.
New statistics revealed the injuries were sustained during a number of activities including gymnastics, football, dodgeball and rugby.
Fifty children were treated for broken or dislocated bones, four had concussion and there were 20 reports of pupils with cuts.
Teaching staff also reported that 61 youngsters were bruised while 81 suffered from a sprain or a strain.
A further 96 incidents logged in the council database were not assigned an injury type, with five of these resulting in the student being taken to hospital.
The local authority has a guide in place to ensure safe practice during PE lessons, advising that regular risk assessments are carried out with rules clearly outlined for participants.
Sports equipment should also be checked and serviced annually by an approved contractor.
A council spokesman said: "PE is delivered in line with Curriculum for excellence experiences and outcomes linked to age and stage of the pupils.
"Activities within the PE curriculum are risk assessed in line with Aberdeen City Council policy.
"We have not banned any activities but staff may choose not to carry out certain activities if they feel something is not safe."
A spokesman for the Educational Institute of Scotland (EIS) teaching union said: "The health and physical wellbeing of pupils is a top priority for schools, and the benefits to young people of physical activity within the school day are well known.
"Schools take great care in seeking to ensure that physical activity, including team sports, take place in a safe environment for pupils.
"As with any physical activity, there is the potential for injuries to occur but schools will make every effort to reduce risks and to ensure appropriate treatment for any injuries which may occur."