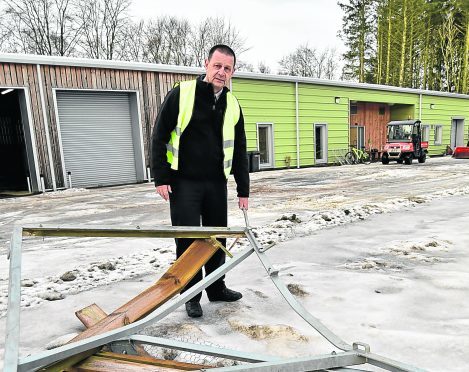 Campaigners have launched a bid to provide better CCTV coverage in a north-east park after vandals caused £50,000 worth of damage.
The gates at Aden Country Park in Mintlaw were broken open and vehicles taken on joy rides over the weekend – with volunteers now facing a huge repair bill to get the attraction back up to scratch.
Sheds belonging to local groups that use the park for events, as well as a shop run by volunteers, were also damaged.
Three teenagers have been charged in connection with the incidents.
Now, spurred on by local reaction to the carnage – which could cost as much as £50,000 to repair – the Buchan Development Partnership has launched an ambitious fundraiser to help prevent the park becoming a target again.
The group, which oversees the running of Aden, hopes to use the cash to purchase extra security cameras and help fund repairs.
Last night Liz Scott, the park's development officer, said the fundraiser was only launched because so many local people have already tried to make a donation.
She said: "We're responding to requests from the local community, who were saying that they wanted to help contribute or do something to put right the things that have gone wrong.
"We're now trying to raise enough money for more CCTV coverage for the park and to put cash towards projects that would benefit from the help.
"There are quite a number of projects that have been affected by the damage, including the community allotments and Willowbank."
The Willowbank Day Service, which runs the shop in the park, helps adults with learning disabilities develop skills and confidence to become more involved with their communities.
Ms Scott says the damage the park suffered has had a significant affect on groups like Willowbank.
She added: "It really is very disappointing.
"So many people give up their time all year round to organise these things and something like this ruins it for everyone.
"It's been quite heartbreaking for a lot of people, and especially ones like Willowbank that really depends on these projects who have people who need to feel safe when going into the park."
The group has set a modest target of £500 to deliver the extra security cameras.
Jack Grant, the park's landscape officer, said people within the community were worried what would be targeted next in the area.
Some of the park's fleet of vehicles are currently out of service for repairs as a result of the break-ins.
"As well as the money, it's a lot of time they've taken up," he said.
"We're now worried about what's going to happen next."
In the past week, 11 separate reports of suspicious activity were received by officers across Mintlaw.
They included incidents at Aden Country Park, a local school, a farm and two businesses.
Two teenagers aged 13 and one 14-year-old have since been reported to the youth justice management unit in connection.
To donate towards the cost of new CCTV cameras and repairs, please visit: www.justgiving.com/crowdfunding/Aden-Country-Park