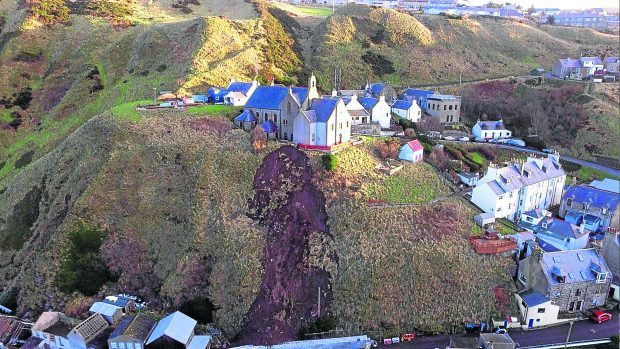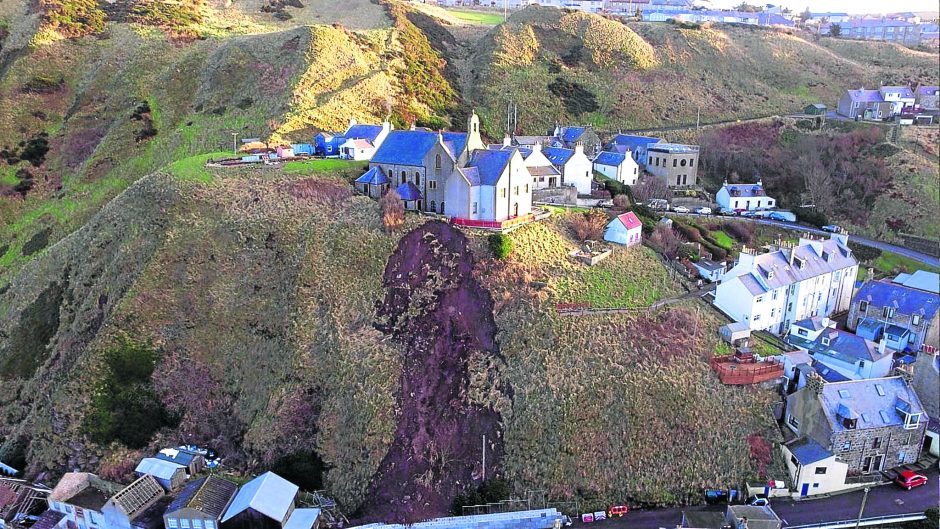 Gardenstown residents learned that a solution to their landslip woes remains "months away" during a public meeting last night.
About 100 people attended the gathering at the Little Schoolie to ask questions of Aberdeenshire Council's landscape and roads engineers.
Access to the village's port has been restricted since December, when the local authority was forced to close Harbour Road in the interest of safety.
The closure means that people living in the bottom of the village are unable to access the top in their cars.
And residents have now been warned to expect further inconvenience – with any potential fix months away.
Gavin Penman, the council's project manager on the issue, said a number of options were being investigated but that no work could begin until a survey was carried out – which first requires the slip to be deemed stable.
Temporary road openings, however, will continue.
Mr Penman said: "Road openings will be subject to favourable weather,
"Our main objective is to develop a solution to enable permanent, unrestricted use of the road.
"We aren't considering closing it."
Members of the public raised fears that the community would become a "ghost town" if the road was not fully open by summer to accommodate tourists.
Local councillor Mark Findlater assured those concerned that something would be done "as soon as possible".
"Council staff are going over and above," he added.
"It's a very dangerous thing – the slope is still moving.
"It is our top priority to get everyone back to their normal daily and working life, but it's got to be done safely."
Until the slip is permanently fixed it has been proposed that the road is opened to members of the public twice a week.
A spokesman for the council's road team said that the nearby church, which overlooks the slip, is structurally sound.
"We've been in touch with the church," he said.
"To date, they are content that there's no risk to the building."