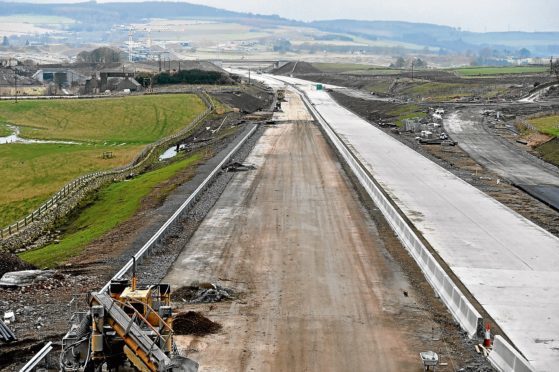 Transport chiefs have been accused of keeping the north-east in the dark over the completion date of the long awaited Aberdeen bypass.
The first traffic was due to flow down the Aberdeen Western Pheripheral Route (AWPR) by the end of winter – which Aberdeen and Grampian Chamber of Commerce had clarified meant February.
But after the collapse of Carillion, one of the partners involved in building the road, the project has been hit with major delays.
And despite repeated requests to come up with an estimated new date for the road's completion Transport Scotland has remained silent on the matter.
Last night Russell Borthwick, chief executive of the chamber of commerce, said they had a duty to keep the people of the north-east informed so that businesses could plan for the year ahead.
In a letter to John Wilson, AWPR managing agent, on January 5 this year, Mr Borthwick said: "In previous correspondence, I reiterated that the chamber has been and remains a strong advocate of the project and the impact it will have on our regional economy.
"Businesses need to forward plan and the chamber continues to receive queries from members as to when the route will be open in full and, after it is, how to make best use of it.
He added: "Our offer to assist with the communication and official opening remains open but it would be helpful if you could update us on specific dates and whether you are anticipating delays to the published timescales.
"As we said when we met, stakeholders understand that sometimes there are delays to major infrastructure projects. What is unacceptable is not being given clarity."
Mr Borthwick said that two follow-up phone calls have been made since the letter was sent but no response has been received.
In further comments made last night he said: "We have members and businesses throughout the region, whether they be transport or logistics who are trying to plan. The whole idea here is that this road is supposed to make business quicker, better, more efficient and easier to plan.
"A haulage company in Peterhead, by now ought to have been able to take a lorry to Glasgow without even touching Anderson Drive or the harbour or the north bit of the A90 and be able to go straight down the new road at Stonehaven which sould take 45 minutes off their driving time.
"But yet they have no clarity as to when they can start budgeting and factoring when that will start because no one is telling us anything.
"I do not believe there isn't somebody somewhere that isn't fully aware of the facts and could say, for example, 'we put our hands up and it's going to be August'."
Craig Lennox, group operations director at ASCO said their business was keen to plan the road's opening into their operational schedule.
He said: "This project has been a long time in planning and, now that we are within sight of the finishing line, it is understandable that any potential delays could cause unease. From a planning perspective, businesses across all industries rely on certainty. Therefore, the sooner we have a clear completion date, the easier it will become to manage the logistics of a company, like ASCO, with the supply of materials going both north and south."
A spokesman for Transport Scotland said: "The managing agent apologises for the length of time it has taken to respond to the letter sent by Aberdeen and Grampian Chamber of Commerce. However, the managing agent has kept the chamber fully updated on the progress of the response.
"Aberdeen Roads Limited has continued to assure us that it remains fully committed to completing the Aberdeen Western Peripheral Road/Balmedie to Tipperty project (AWPR/B-T) safely and in the shortest timescale possible.
"In this regard, we will continue to offer support and assistance to Aberdeen Roads Limited.
"It is in the interests of all partners to complete the project and open the new roads as quickly as it is safe to do so. We are continuing to work closely with Aberdeen Roads Limited to identify any impacts on delivery following Carillion's announcement earlier this year. We will then consider the necessary mitigation that may arise as a consequence of this issue, if required.
"We will update the chamber once we are satisfied that ARL have a full understanding of the impacts and have implemented any necessary mitigations."