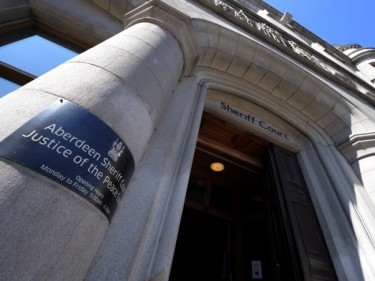 A chef has been banned from the roads after he was caught driving under the influence of legal highs.
Christopher Leishman appeared from custody at Aberdeen Sheriff Court yesterday where he admitted driving along the A93 Aberdeen to Braemar while high on drugs on March 24, 2015.
Fiscal depute Lixia Sun told the court that Leishman, who lived in Tarland at the time, was witnessed by several witnesses driving erratically and weaving in front of oncoming traffic at Aboyne, Logie Coldstone and other locations between the city and Ballater.
The fiscal also told the court that the 43-year-old got out of his car on more than one occasion after stopping in the middle of the road and was seen to be "unsteady on his feet" while leaning on the vehicle.
She said that witnesses had followed him at a safe distance in order that they could update the police on where he was.
Police eventually tracked Leishman down and stopped him by the side of the road.
Officers said they immediately suspected he was on drugs because he had "glazed eyes" with reddened skin around them.
He also had a "nervous and paranoid" demeanour and could not stop walking back and forth.
Police asked him to take a roadside breath test which came back as negative and also found two opened bags of legal highs in his pocket.
He was later examined by a doctor back at a local police station by which point he had sobered up.
Defence agent Graham Morrison said Leishman had been working as a chef in the local area.
He had been socialising with friends and they had taken the then-legal substances.
Mr Morrison said Leishman had since left the north-east and was living in East Kilbride where he was helping to look after his terminally-ill mother.
Sheriff Philip Mann fined Leishman, of Castlehill Loan, Kippen, £800 and disqualified him from driving for 27 months.