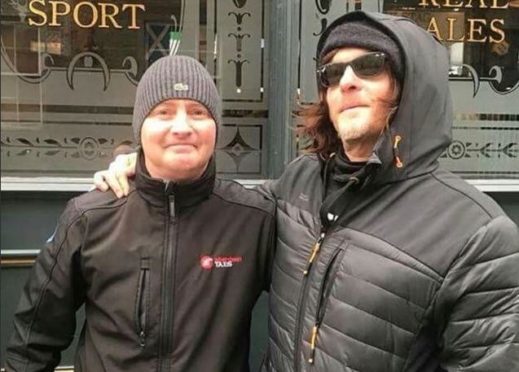 Two Walking Dead stars were spotted in the Granite City yesterday.
Norman Reedus and Melissa McBride – who play Daryl Dixon and Carol Peletier in the AMC zombie drama – delighted fans by posing for pictures as they explored Aberdeen.
The American actors took to social media to announce their arrival, posing under the William Wallace monument on Union Terrace.
The pair were also spotted at Dunnottar Castle, Aberdeen City and Shire Archives before stopping off for a pint in The Stag on Crown Street.
It is understood Reedus is filming for his travel show Ride, which airs in the US.
And fans were quick to offer him some suggestions for where to film, including the Cairn O'Mount road and the North Coast 500.
The Walking Dead is an American post-apocalyptic horror television series developed based on the comic book series of the same name.
Andrew Lincoln plays the show's lead character, sheriff's deputy Rick Grimes, who awakens from a coma discovering a world overrun by zombies, commonly referred to as "walkers".
Grimes reunites with his family and becomes the leader of a group he forms with other survivors. Together they struggle to survive and adapt in a post-apocalyptic world filled with walkers and opposing groups of survivors, who are often more dangerous than the walkers themselves.