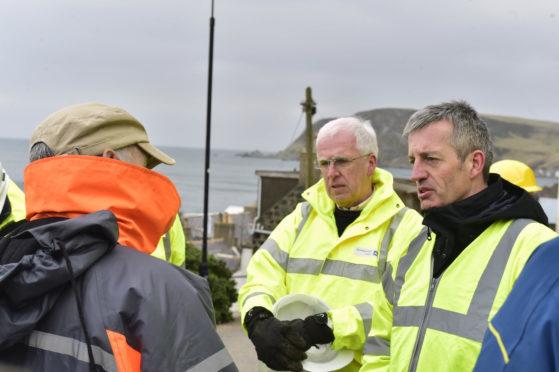 Furious residents affected by a village landslip demanded action yesterday as their council leader made a plea for cash to pay for repairs.
Councillor Jim Gifford, local authority chief executive Jim Savege and landowner Marc Ellington visited Harbour Road in Gardenstown yesterday.
It came as a £2million package to fix landslips in the tiny community and nearby Crovie was approved by Aberdeenshire Council.
Jim Wiseman, who lives next to the affected site in Gardenstown, urged officials to take start work sooner rather than later to help the village.
He said: "We need to get this road block cleared.
"It has been lying like this for the last week and I think it is time we had some action."
Councillor Gifford revealed that Aberdeenshire Council has now contacted the Scottish Government to ask for help with the repair bill.
He said: "The question that will come up later will be the cost of this, not just the work that is happening now but the long-term solution.
"We are having conversations with government as we speak about getting some help with that as we had elsewhere.
"It is not going to be straightforward and it is almost certainly not going to be cheap."
Martin Aspinall, who lives near Gardenstown's harbour, said there appeared to be a lack of progress despite visits from politicians.
He said: "It is now been 15 weeks since the first slip was identified.
"The situation keeps getting worse and the road has been totally blocked by debris for over a week.
"When it comes to the village everybody feels they are using it as a photo opportunity because they promise us we will get some action but they go away and nothing happens."
Yesterday the council's infrastructure services committee agreed to dip into its reserves and provide a long-term solution for Gardenstown.
Councillors approved £1.5m from its harbour, coast protection and flooding budget for the project and a further £500,000 for landslip repairs at Crovie.
Contractors Atkins Ltd has said that a soil nailing procedure could be the best option going forward. This would involve installing steel bars to support unstable slopes.
However further ground investigation works need to be carried out which could also increase the overall cost of the remediation work.
Work to clear the debris from Harbour Road will begin next week and fuel deliveries and bin collections could resume today.