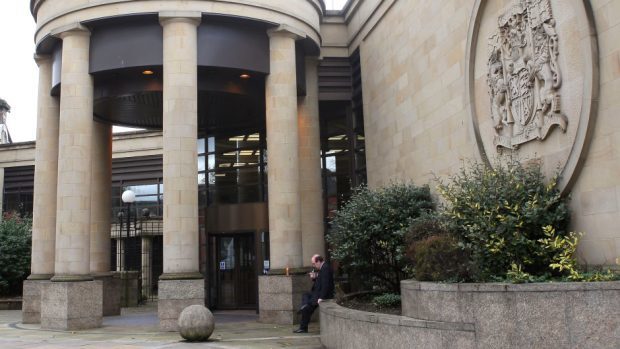 A murder accused has said he would have "wrung" his best friend's neck had he realised he was carrying the knife which ultimately caused a dad's death.
Gary Martin is on trial accused of Gary Clampett's murder at the High Court in Glasgow along with six other men.
John Henderson, 47, Joseph Martin, 40, Thomas Martin , 45, David Graham, 46, James Connor, 52, and Dean Leech, 25, are also accused.
They all deny the charge of murdering Mr Clampett by hitting him with knives, a machete, a sword, a chain, a hammer, a crowbar, bats, golf clubs and poles at Fernie Place, Fraserburgh, on June 18.
On Wednesday, Henderson admitted "striking out" at Mr Clampett with a knife leaving him with fatal wounds. However he rejected the prosecution's claims that it was pre-meditated.
Giving evidence yesterday, Martin, 37, told the jury that prior to the events of June last year he had never met Mr Clampett, though knew of him, but said he had previously been in a relationship with his wife Sharon before their marriage.
Martin said that in the hours before Mr Clampett's death he had gone to comfort his sister Alicia after a glass pane on her door had been smashed.
The court heard it came after his cousin, and co-accused, Joseph Martin was attacked with a baseball bat in front of her house.
Martin said Joseph's mother Kelly Martin had been in a long-running feud with Mrs Clampett but said he did not know the origins of it.
Later on that night, the accused told the jury, he heard rumours there was trouble at Mrs Martin's house and he headed there along with Henderson, Connor, Thomas Martin and Leech.
When the group got there they saw the Clampetts and Rena Sutherland walking back to their house.
He said when Mr Clampett spotted the car, all three came towards it and Martin got out of the car.
Martin said Ms Sutherland then began attacking him and tried to get into the car, before she opened the boot and tried to grab a crowbar, which he ultimately got to first.
He then struggled with her before falling to the ground and running back into the car during the incident which he described as "mayhem".
When asked by Mr Findlay what he would have done had he realised Henderson had a knife he said: "I would have taken it off him and wrung his neck.
"Look what's happened. It's too easy to kill someone. It's deadly."
He stressed that he had not touched Mr Clampett himself.
The trial, before Lord Beckett, continues.