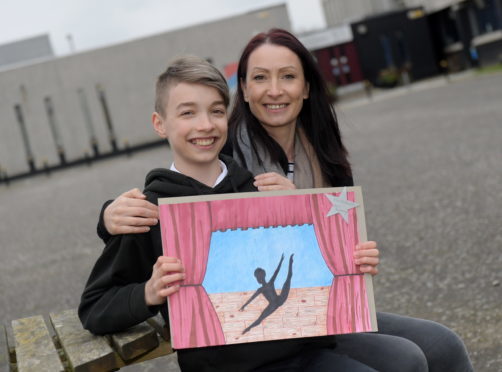 A city pupil will have his art work showcased in the Scottish Parliament.
Josh McPherson entered the My Future Aspirations competition which was set up to challenge students to convey their career dreams through art.
The 12-year-old is keen to become a successful dancer and has already secured a scholarship from Scottish Ballet.
He created a pen drawing of himself dancing on a stage.
The Dyce Academy pupil's work will go on display in Holyrood on June 18 alongside other art by Ellie Ross-Sutherland, 13, who studies at Hazelhead Academy, and Holly Fong, 12, of Oldmachar Academy.
Artistic creations from other city pupils and children attending The Gordon Schools as wells as schools in Banff and Banchory will also be on display.
Josh said: "I am proud that the drawing has been recognised. I want people to know that boys can be dancers and be proud to be in the arts.
"Drawing and dancing are both passions of mine and this competition meant I was able to bring them both together."
Josh's mother, Catherine McPherson, said her son came home from school one day inspired to dance.
She said: "He started taking classes at the Natalie Tough School of Dance school in Aberdeen, and it went from there."
Judith Thorpe of Thorpe Molloy Recruitment, the competition organiser, said: "Our competition creates an opportunity for pupils to think seriously about what they might want to do in the future.
"It demonstrates the ambition they have to pursue diverse careers which are full of inspiration."