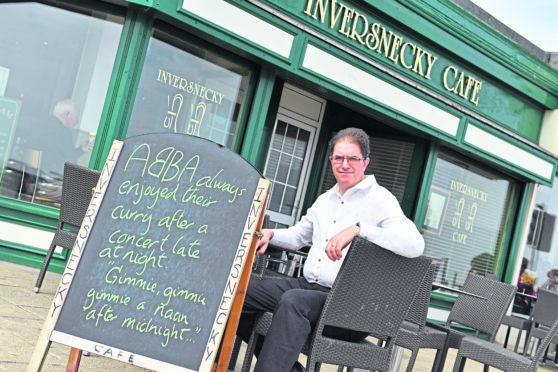 It's the Scottish beach eatery where the bacon comes accompanied by bon mots and the sausages by snappy one-liners.
A place where the sandwich board outside the premises commands almost as much attention from tourists as the sandwiches consumed inside.
And the patrons who frequent the Inversnecky Cafe in Aberdeen wouldn't have it any other way, after three years of jokes outside the premises on the popular promenade.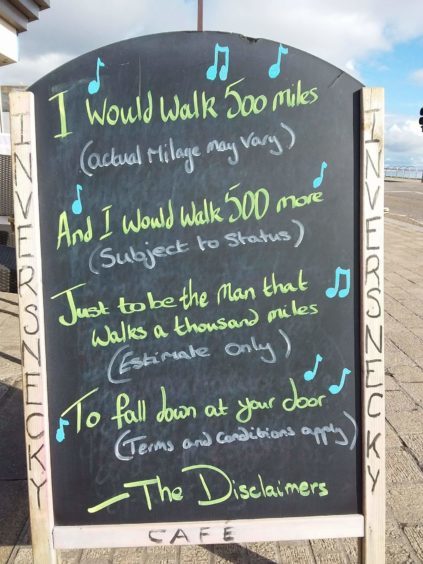 Every day, diners are served up references to Venn diagrams, sci-fi films, classic rock hits and personal messages, such as when owner Martin Vicca recently told his customers why he had struggled to cut the grass.
"I fought the lawn and the lawn won."
Mr Vicca, 51, has touched on myriad subjects since he started cracking jokes, along with eggs, in 2015 and said yesterday even his customers were sometimes mystified by the gags – but not as much as some visitors to the busy esplanade.
He added: "At the start, we got the board so we could highlight the daily specials, but I remember talking to the staff and asking them: 'Let's see if we can make people laugh'.
"I try to change it regularly and some efforts work better than others. There have been plenty of times where people have driven past the cafe and done a double-take before reversing to have a second look.
"I'm not claiming it is all my own work. A lot of the references are things I hear from the customers, or the other staff members and their friends, but it doesn't really matter if they put a smile on your face.
"Business in Aberdeen isn't booming as it was before the economic downturn, so you have to try to stand out in some way.
"The reception we've had so far suggests it has made a difference. As long as folk like it, we will stick with it."
Mr Vicca's inspiration stretches from the Two Ronnies to the Fast Show and the likes of Peter Kay and features the occasional wince-inducing pun.
Yet one recent sign, which linked the song "(I would Walk) 500 Miles" to a series of caveats, before finishing with the words "The Disclaimers", immediately went viral.
He added: "As you might expect, it is a bit hit and miss, but if you don't like one, there will be another along the next day… and that is a promise."