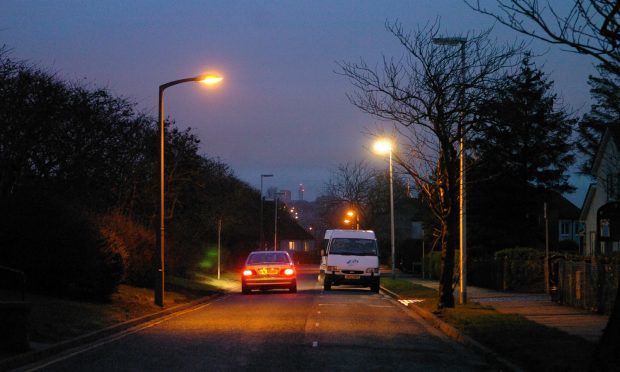 Aberdeen residents are being left in the dark as the council struggles to recruit electricians to repair the city's lamp-posts.
The latest figures, from March, show that just 50% – 171 out of 342 – of street lights reported broken were repaired within the council's target of a week.
The figures were an improvement on the darker months- but there were also far more repairs due.
Statistics from February show that just 49.2% (375) were repaired in a week, while in January the figure was 33.3% (319). A target has been set requiring that 100% of all broken street lights be repaired within a week.
The council's operations committee heard this week that the authority are struggling with a lack of electricians and lighting technicians- but they hoped to catch up on the backlog in the lighter, summer months.
Chief officer Mark Riley told the committee the local authority "could not pay as much" to the tradesmen as private firms and were looking at increasing overtime.
The report also said that the council's spend on agency staff in the roads and infrastructure department had rocketed in the three months analysed – climbing from £164,127 in January to £326,708 in March.
The council's targets recommend they not spend a single penny on agency workers.
Opposition councillors have cast doubt on the official explanation.
Hazlehead, Queens Cross and Countesswells SNP councillor John Cooke said one lamp-post on Whitehall Road had been out of operation for eight weeks earlier this year.
He said: "The delays in fixing street lights has been a cause of real frustration in my ward and across the city. It's not really good enough to simply blame the issue on a lack of electricians when this is not a new problem.
"What we need is a concerted effort to get such basic matters under control."