Huge crowds danced the weekend away beneath blue skies as some legendary acts headlined an Aberdeen music festival.
The Enjoy event got under way on Friday with performances from indie favourites Cast and a DJ set by Faithless which sent revellers into a frenzy.
The main attraction on Saturday was a DJ set by Basement Jaxx, which brought the fourth instalment of the event to a rousing finale.
Yesterday, organisers revealed that a record-setting 9,000 people turned up at Hazlehead Park across the two days – a 50% increase on last year.
Managing director, Mark Lenthall, said: "We promised 2018 would be our biggest and boldest festival yet and, with the help of music lovers in Aberdeen, we delivered that. "We are delighted that the audiences came out in such numbers and told us they want a large music festival in the north-east."
The singer from 1990s band The Bluetones, Mark Morriss, took to the stage on Friday evening for a set which mixed his own material with some classics from his old band's heyday.
He concluded with Bluetones hit Slight Return – which reached number two in the UK singles chart in 1996.
The tent surrounding the main stage began to fill as Cast launched into a performance which brought many audience members back to the Britpop era.
They began with Flying, which reached number four in the charts in 1996, and their set included crowd-pleasers such as Fine Time, Walkaway and Live The Dream.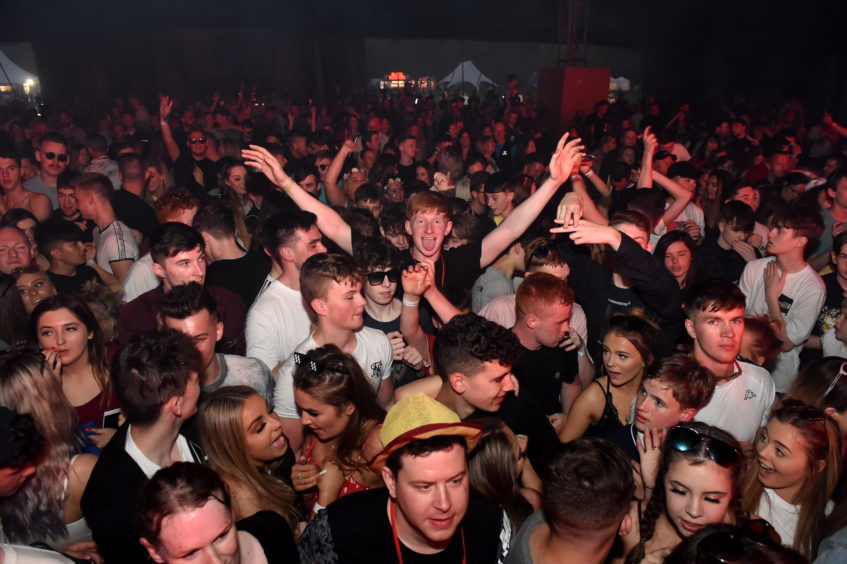 Frontman John Power paid tribute to the north-east audience as the group finished with their second single, Alright.
Afterwards, Mr Power praised the "great crowd", and noted that Scottish audiences had embraced the band before music fans in the rest of the UK.
As dusk fell, the tent came alive with strobe lighting while Faithless played a storming DJ set.
An extended version of dance anthem Insomnia transformed many in the audience into ravers for the night.
Day two featured performances from Starsailor and Goldie Lookin Chain before Basement Jaxx brought the party to a close with an energetic dance set.
Festival boss, Russell Aitchison, said: "The weather was incredible, audiences were terrific and the artists really delivered.
"In fact, many of them made a point of saying said how great they found the Aberdeen audience."