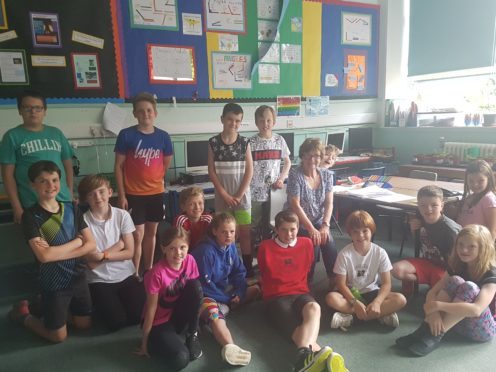 Pupils at Braemar Primary School will take over the village's castle on Friday.
Fifteen children from P5, P6 and P7 will act as tour guides at Braemar Castle to celebrate the Year of Young People.
For the past 10 years the castle has been operated by the village, with community volunteers acting as guides and taking on the many roles needed to run a successful enterprise.
Since the community took over, local children have been encouraged through various projects to feel part of the castle, and are looking forward to sharing stories with visitors on Friday.
Marilyn Baker, a teacher and castle volunteer, has been preparing the pupils for for their guiding roles.
She said: "The children are really looking forward to it.
"They're hoping both visitors and people from the village will come on Friday.
"We went to the castle and the children were invited to choose which room they would learn about and look after on the day.
"They really enjoy being part of the community effort to look after the castle and it's a great way for them to learn the history of the area."
Castle manager Georgina Erringto, said: "It's very important for the future of the castle to make sure that our local youngsters are involved and it's reassuring to know that they are eager, knowledgeable and understand that one day that castle will be their responsibility.
"We're really looking forward to welcoming the children on Friday and hope many of the parents and relatives will come along to support them."
The children will be on duty from 12pm to 3pm on Friday.
The castle is open from 10am to 5pm. Members of Braemar Community Limited have free entry and local non-members can join on the day.