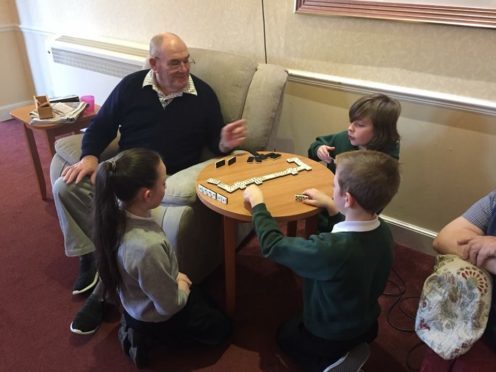 Primary school pupils are visiting care home residents as part of a new project set up so they can teach each other new games.
The St Modans Care Home in Fraserburgh is now involved in the innovative partnership with South Park Primary School.
Pupils from primary 4-7 visit the care home weekly to interact with residents so they can share their knowledge and experiences.
Residents diagnosed with Alzheimer's and dementia are believed to benefit from the activities.
And the project aims to provide mental and social stimulation for all those involved.
Pupils have been teaching care home residents how to play games on iPads to improve their memory and coordination.
In return, the residents have been showing the youngsters how to play traditional games including dominoes, draughts and chess.
The groups have also been baking and gardening while forming friendships.
Maria Kerr, activities coordinator at the Meallmore home, originally started the programme as a one off event.
Following the initial success, students are now popping in to the home for weekly visits.
Mrs Kerr said: "Both the pupils and residents were a little nervous about challenging each other at the games but they hit it off straight away and now everyone really looks forward to the visits.
"It gives our residents such a boost as they love interacting and hearing about what life is like for kids growing up these days and we have seen some great friendships forming.
"The activity has been a huge eye opener for the pupils too – they've all grown up technology-literate and it's a part of their daily lives, so they are finding it quite surprising to hear from a generation that wasn't always online."